Welcome To The Explaindio Media Kit
Exclusive Offer Page
(This offer is for Explaindio Owners ONLY!)


Hi Explaindio Folks!

The Explaindio Media Kit is a vast collection of tools and resources that make creating videos with Explaindio faster, easier and better. And you can use them in plenty of other video applications too.

Here's a quick list of what you're getting, and there's more details and videos below:

✓ 7 High quality animated characters. Each has 13 different poses and come in a variety of formats to make your Explaindio projects come to life.


✓ 126 texture backgrounds in JPG format that quickly and easily spice up your videos.


✓ 43 framed over-lays - These graphics are placed OVER your other media to create cool effects.


✓ 19 ready-made, potent Call To Action videos - These videos use potent sales techniques so your videos create more clicks, emails and phone calls.


✓ Cool collection of custom sketch "hands/brushes" - A collection of pens, pencils and brushes to use in your Explaindio sketches.


✓ Blue Ribbon Resources - I've collected the best video media resources over the last 3-4 years. These are the "Best of the Best" and while there's a few paid resources, the vast majority of the resources included are free of charge.

Your 7 Animated Characters Add Motion and Emotion to Your Explaindio Videos

Emotion sells. Despite what we tell ourselves, we buy using emotion and then justify our decision using logic later. Your videos must make viewers FEEL.

This characters were designed to express a rage of "trigger emotions" which make your viewers feel in certain ways.

This video introduces all your animated characters. To save your time, I only show all the versions of your Barb character, but each of the poses and animations available for all the other characters:

Not only does each character have 13 different poses and a variety of emotions, they come in an assortment of file types so they can be used in virtually any video making software.

MP4 - These are the video versions. They are 1280x720 and are perfect for using with Explaindio's sketch feature. And, they can be used in all the Exlpaindio animated slides that allow video backgrounds. You're getting two videos per character. Since MP4 videos don't allow much control, the characters are positioned differently and use white and either black or gray backgrounds. This gives you a variety of choices and makes them very easy to customize and the basic background colors will go with any color scheme.

It's so easy...Just add some text in Explandio's sketch feature and you've got professional looking videos in a snap!


SWF ActionScript 3 - Explaindio only supports animations using the latest SWF/Flash coding and your animated characters were created to specifically work with Explaindio. This means you you'll make your Explaindio slides come alive with these high quality animated characters.


Still Images - And if you need still images for any reason, you're also getting:
PNG - 13 for each character.
SVG - 13 for each character


Still Versions of Your Characters:
This next quick video is a slideshow showing all the PNGs for all the characters. Remember, each PNG also has animated versions, in both MP4 and SWF formats:

Explaindio Exclusive: Special Face To Face Animation Collection

Face To Face characters are a bunch of animated "faces" you add over images and clip art to turn them into animated characters. Some even "talk", just add your own voice overs.

Here's a video demonstrating the "talking" Face to Face characters:


There's 24 "talking" male Face To Face animations and 15 female faces, and they come in both SWF (for Explaindio) and GIF (for PowerPoint) formats.

You also get a bunch of "silent" characters that don't speak. There's 12 men and 12 women characters, and they all have both SWF and PNG versions to work with Explaindio. Plus, each of the 24 silent Face To Face characters have both happy and sad versions.


Here's a few examples of using the silent Face To Face characters in Explaindio:

126 Texture Backgrounds

Also included in your Explainer Media Kit are 126 texture backgrounds in JPG format. Adding textured backgrounds is easy in Explaindio and can give your videos a dramatically improve the look of your videos.

Here's the deal...I searched all the Public Domain image sites for the BEST backgrounds to use in Explaindio. I took each background and resized them so they are perfectly compatible to use in both Explaindio's sketch and slide features.

I also changed the color of most of the backgrounds to give you as many design options as possible, so you don't have to mess with the technical graphics stuff.

3 Quick Texture Background Examples:
I made this 30 second demo video using 3 of the texture backgrounds in Explaindio's "sketch" feature. This should give you quite a few ideas of how your texture background images can really spice up even the most basic videos the fast and easy way.
You're Also Getting 43 Framed Over-Lays.
While backgrounds go "behind" other elements, framed over-lays go OVER other media and can take your Explaindio videos to the next level.
These will work in in both Explaindio's sketch feature and in animated slides. Of course, not all Explaindio slides are formatted for images, but most are.
Again, I spent hours and hours searching all the Public Domain sites for the BEST images to use as framed over-lays. I resized the images to work with Explaindio. I also made certain areas of the images transparent to expose what is behind the over-lays so you don't have to.
It's so very easy in Explaindio's sketch feature to add a video with a frame over-lay to give your videos added impact.
In the video below, a couple of the examples demonstrate how the transparent PNGs frame over-lays can be placed over a couple of example videos (videos not included).
The other examples show an image (not included), then the image over a texture background, then adding a frame over-lay. The combo of texture backgrounds, frame over-lays and your own images and videos give you limitless possibilities.
Explaindio
Media Kit Frames Overlays Examples (there's lots more over-lays in your collection)

The Missing Link in Many Explaindio Videos - GETTING ACTION!

You've created an Explaindio video worthy of Steven Spielberg and people have watched your entire video. The next step is to get them to take ACTION. And a powerful call to action is missing from many Explaindio videos. Just adding contact info isn't good enough! A good call to action is what really separates the video marketing pros from the "wannabes".

There's 19 ready-made, potent Call To Action videos using the right mix of kinetic typography also included in your kit. Just add your own custom contact info and watch your results multiple.

Call To Action Demos
21 Custom Explaindio "Brushes"

Plus get a collection of custom sketch "hands/brushes". Explaindio allows you to add your own custom images to use to "draw" elements in your videos. I've included 21 custom brushes you can use to jazz up your sketches.

Again, I hit up the Public Domain sites for the best images to use as "brushes". I resized them, converted them to PNG files and made them transparent as needed so you don't have to mess with finding and transforming them.

Here's some examples of your custom brushes using Explaindio:

Extra Sketch "Brushes" Demo

Special Bonus - Save Your Precious Money and Time with "Kurt's Blue Ribbon Resources - The Ultimate Collection of the Best FREE and Cheap Video Making Resources"!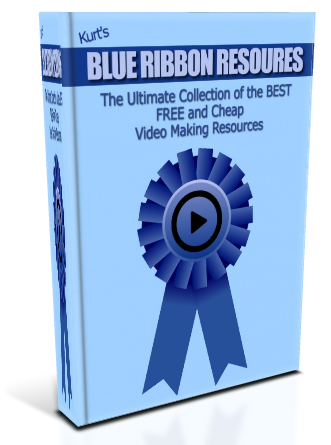 Do you want even more great video making stuff?
I've collected the very best free and cheap stock media resources over the past 3-4 years and put the
best of the best
all in one place.
✓
Find tons of the BEST FREE resources for images, graphics and clipart.
✓
Discover lots of free stock video sites. You'll be shocked how many there actually are.
✓
Learn the best sites for all sorts of free, cheap and public domain audio, including background music, special effect and more.
✓
Find out the only paid media sites I pay for myself because they offer supreme value. Hint: There aren't many of them, and I only recommend pay-for sites that I pay-for myself.
✓
Uncover a source for misc. video related tools, such as free video "motion backgrounds", free After Effects templates and much more.

My Blue Ribbon Resources Report will save you time and money and is packed with
assets that will make creating better videos faster and easier.

Click below to get all these assets for Explaindio now:
| | | |
| --- | --- | --- |
| Personal Version | | Pro Version |
| | | |
| Personal License - Use in all of your own projects. | | Professional License - Use in all of your own projects and all of your clients' projects too! |
No risk full 30 day money back guarantee

Thanks and take care,
Kurt Melvin