Signs are a great way to express an idea to help you get your point across. You're getting a variety of 72 sign images.
For the signs below, I used Pixabay images. I removed the text for you to create "blank" signs so you don't have to mess with this. Just add your text message and add to your video and graphic projects. Easy peasy.
Here's the thumbs: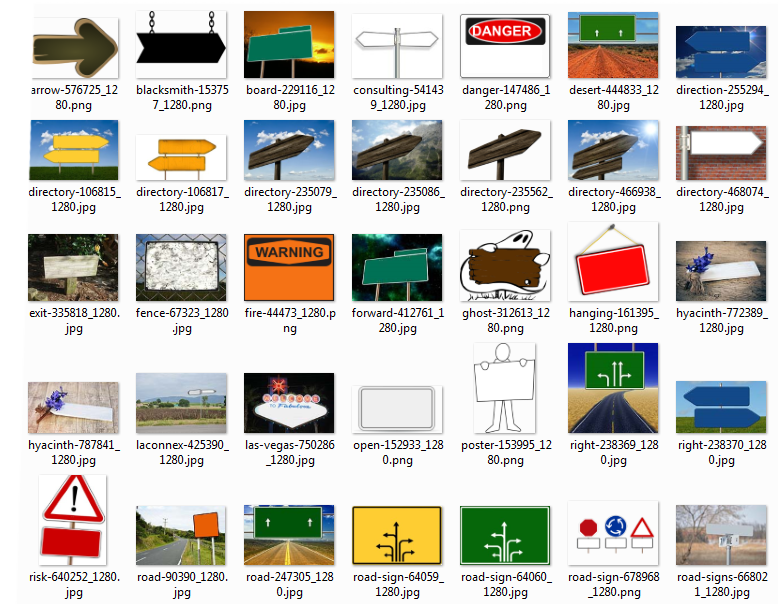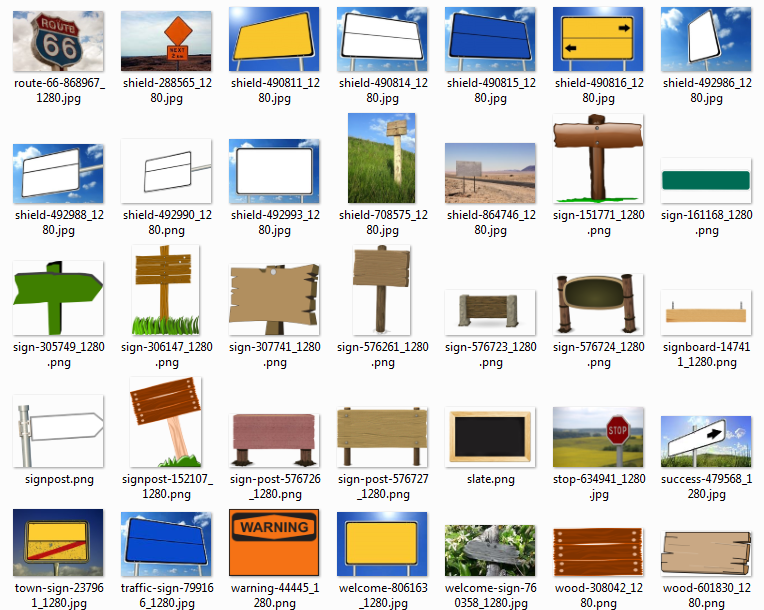 Using just the right font can really enhance your projects, so you're also getting over 420 typefaces in a variety of fonts, each with the SIL Open Font License.
Be Legal. Be Safe.
Fonts are protected by copyright laws and you can't just use any font you want, especially in commercial projects. The Open Font License means you can legally use these fonts in any and all of your projects. For example, you can create your own graphics with these fonts and sell them, use them in software products...anything you can think of.
I Made These Fonts Easy for You
Sure, you can spend hours and hours finding these fonts. Then you have to download each, unzip every one of them, then open every folder to install the fonts.
I downloaded all 420+ fonts, unzipped them, then moved all the fonts to the same folder, so you can just "select" all the fonts and install them all at once. This will literally save you hours.
This font collection is a well-rounded assortment of high-quality fonts to help give you the perfect look and feel including:
Headline and Display
Script
Dingbats
Serif
Sans Serif
Novelty

Deco and Retro
Comic
Scary
Goth
Text
Outline

Bold
Quirky
Techno
Vintage
Old English
Handwritten
Plus a FREE Font Resource Report
Also included in your Font Toolkit is a quick report packed with solid tips and resources for getting the most out of your fonts, including:
The Best Free Font Directories


Where to Download My Two Favorite FREE Fonts (I even used these fonts on this page for the headline graphics)


Where to Find The Best Free Fonts for Commercial Use


The Topographer's Secret Font Design Weapons + Where to Get Them for Free and Cheap


A Great Collection of Free Online Graphic Text Generators


Free Software to Help You Organize Your FontsFree Font Manager Software


Tons of Links to Amazing Typography Examples

210 Popeye cartoon enhanced backgrounds to use in your video and graphic projects.


Over 130 attention-grabbing images of animals with transparent backgrounds.


72 sign images customized so they're all ready to go.


Over 420 fonts with the SIL Open Font license and conveniently organized to be easy for you to install.


FREE Font Resource Report with lots of great font resources.