An amazing assortment of training and resources that takes your
content creation and marketing to an entirely new level.
King of Content 2 is your unique guide


to creating

a wide variety of profitable content


as

quickly and easily

as possible.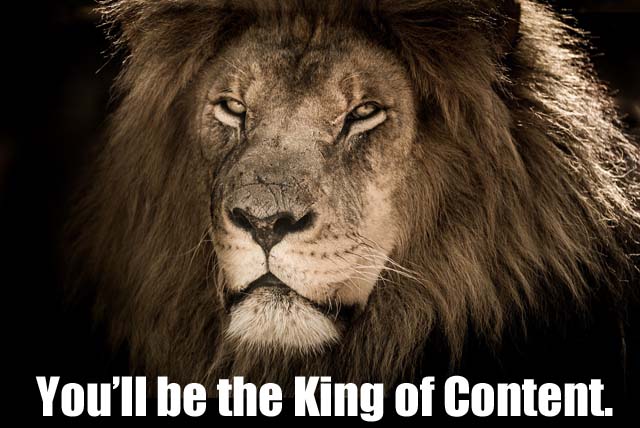 Welcome to the King of Content 2...

You're about to discover the fastest and easiest ways to create HIGH QUALITY content that makes you money.
Here's a quick over-view of what you're getting in the King of Content 2 training and guide:

Guide to LSI and using keywords - Most SEO "experts" don't really know what LSI really is. Not only will you discover what LSI really means, you'll learn how easy it is to use the most "Google-friendly" words possible in your content.


Intro to a free tool that's essential for everyone working on a computer, especially for people that want to create content.


6 Content Quick Tips - fast and effective suggestions for creating content that your folks will love.


Links to the best content resources on the Web, including content free content and keyword research tools.


How to uncover the most popular, shared and trending content so you know what people like before you create content.


How to make more money from your articles and posts using Adsense - We all are taught to optimize a page to rank in Google. But how about optimizing a page to produce the highest paying clicks from Adsense?


Adsense can be very profitable, but you must optimize your pages for Adsense. Find out how to optimize your content to make the most from Adsense.


Cheat sheets are perfect to use as incentives to build your email lists and to give away as bonuses for affiliate products and your own products. Microsoft Word is the best and easiest software for creating cheat sheets. Included is a short video shows you how to use Microsoft Word to easily create good-looking cheat sheets.


Rediscover a Forgotten Resource - This site is perfect for free ready-made content for starting email campaigns and getting website traffic.


Discover a great free site that really helps you create content about content. Other services charge you an arm and a leg to do the same thing.


Google Docs Speech to Text Quick Tips - Here's my simple system for using Google Speech to Text to create content as effortlessly as possible.


Why "Co-Occurrence" is essential for Google ranking and my exclusive method for finding the most potent co-occurrence keywords and phrases.


A super-advanced keyword strategy that's easy to use that will greatly multiply the potential number of keywords and phrases your content can rank for without looking like you're "stuffing" keywords.


Private Label Rights (PLR) - 18 effective suggestions for using PLR (Private Label Rights) so you get the most bang for your buck.


Quiz Quick Tips - Quizzes can be a potent form of content and rank as the most shareable content in the Net. You'll find why it's absolutely essential to have these 3 features when selecting a quiz platform/plugin.


You'll also find 9 solid ways to repurpose content to get the ultimate results from your content.


Why using questions for content and SEO is an extremely powerful strategy and how to discover the bets ways to find and use questions.


3 beneficial resources from Reddit, Quora and Twitter few people know about or use to use content.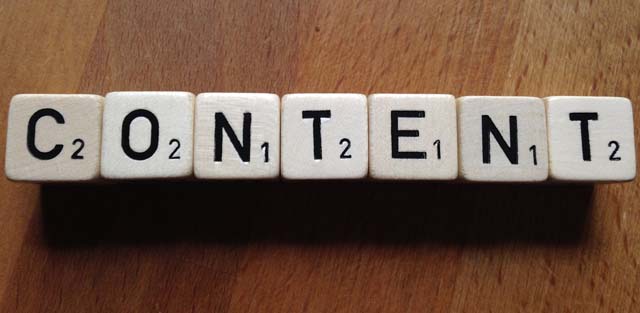 You're also getting


The Original King of Content
Fast and Easy Content Creation with the
Ultimate Content Curation System
The King of Content is a step-by step system for quickly and easily creating high-quality posts and pages with unique curated content.

In case you aren't aware, "curation" is simply bringing together the best, most interesting and most helpful content about a topic and putting it all in one place.

Some of the biggest and most successful sites on the Web rely on curated content. Sites like The Huffington Post, BuzzFeed, Reddit, Digg.com and many more all exploit content curation, and you can too.

And just as important, the King of Content System includes a built-in marketing plan to maximize the traffic potential of your pages by attracting the major influencers and authorities in a wide variety of niches to help promote your content.

These folks already have HUGE audiences. You'll learn an easy way to get authorities to recommend and promote your content to their people for FREE.

You'll discover two methods for using the King of Content system. One uses a program called Scapebox. The other uses totally FREE resources.
It's up to you which methods you want to use...
both are totally WHITE HAT.



Yours with the "Plus" Package
The Video Gap Sales Video
(and Sales Pages Too!)
The Video Gap is a dynamic, step-by-step system that reveals how to write scripts for marketing videos. And you can use the Video Gap to write powerful sales letters too!

The Video Gap has 9 time-proven "recipes" and a wide variety of "ingredients", just like a cook book. Just pick a recipe and mix and match ingredients to create potent sales copy.

Takes Full Advantage of "Trigger Emotions"

"The difference between the right word and the almost right word
is the difference between lightning and a lightning bug."
Mark Twain - The Wit and Wisdom of Mark Twain


Trigger emotions are feelings stimulated by the best copywriters and script writers to maximize sales. Trigger emotions are the very foundation of the Video Gap system.

Step 1: Choose one of the 9 ready-to-go "recipes", modify them or create your own recipe. Ready-Made-Recipes include:

1.Basic 1-2 Minute Infomercial Recipe #1
2. Basic 1-2 Minute Infomercial Recipe #2
3. Basic 1-2 Minute Infomercial Recipe #3
4. Double Call To Action Recipe
5. The AIDA Recipe
6. The AIIDA Recipe - Add INFORMATION to the basic AIDA.
7. The Award Recipe
8. The Honest Review Recipe
9. The How To Recipe
Step 2: Add "ingredients". Ingredients are the individual scenes or "slides" that make up your videos. Each scene or slide should have one main purpose.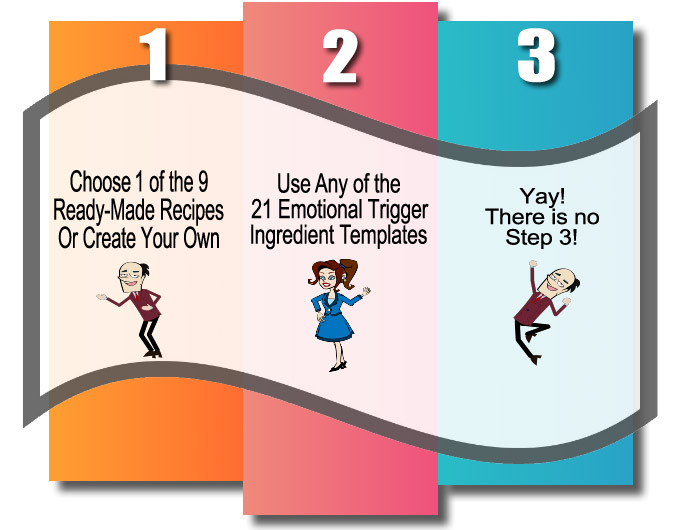 Get the RSS Riot Content Factory Software in the Extreme package.
You're just a few minutes away from controlling the
most potent content system ever!
RSS Riot is truly a content factory. It's a Windows desktop "RSS reader" software that automatically checks 100s and 100s of high quality sites for updates.
See for yourself just how powerful RSS Riot is. The video below is ZERO HYPE and shows how to use the software and all the content that's pre-installed:

I Did the Work for You So You Don't Have to

To be honest you can download plenty of free RSS software, including the one used for RSS Riot.

However, I used my experience and knowledge of RSS to find and pre-install hundreds of great RSS feeds to ensure you have access to fantastic content at your finger tips.
It literally took me days and days to research, gather and add all these RSS feeds. You can take advantage of all of them in just a few minutes.


Four HUGE Reasons You Need RSS Riot Content Factory:

1. Consistently being among the first to post quality comments on the blogs of influencers is a great way to get noticed by them, breaking the ice for possible partnerships. But to get the most out of this technique, you have to be one of the first people to comment. RSS Riot automatically checks hundreds of blogs for updates in a minute or two.
2. RSS Riot is the ultimate content research system for developing your own original, unique content.

3. Use RSS Riot for your own information, entertainment and education. You'll be fascinated by the wealth of high quality information available to you.

4. Take advantage of the built-in information resources to share interesting and informative content on your social media accounts with a click.
RSS Riot comes pre-stocked with hundreds of the highest quality, hand-picked RSS feeds in the following categories:
Marketing
Entertainment
Humor
News
Pets, Animals and Wildlife
Science
Technology
Even More

These categories were selected because they are either the most shared on social media, have essential content for marketers, are extremely interesting...or "all of the above".

Of course, you're in total control. You can add your own categories and even delete the pre-installed categories, it's up to you.


Get King of Content 2...Choose your deal:

Content Package:

King of Content 2
The Original King of Content

Plus Package

King of Content 2
The Original King of Content
The Video Gap System
Extreme Package Best Deal

King of Content 2
The Original King of Content
The Video Gap System
RSS Riot Content Software

I reserve the right to end this offer at any time without notice.
Immediate Download.
Complete Product.
No Upsells. No Downsells. No BS or Hassles.

Requirements:
Ability to download and unzip files.
Ability to open and read PDF and HTML (web) files.
A web browser, preferably Firefox.


The Original King of Content:

Firefox Web Browser is suggested - We'll use a FREE plugin that only works with Firefox. However, I've included a couple of free alternatives if you don't want to, or can't, use Firefox.
Excel or other Spreadsheet program - Microsoft has a free 30 day trial for Office, which includes Excel and a number of other programs like PowerPoint, so you can check it out and use it risk free. Or, use OpenOffice, Google Docs, etc.
Scrapebox is suggested but not needed in any way. You can do everything without it.


The RSS Riot software requires a Windows PC.


Thanks for your time and take care,

Kurt Melvin