At this point in time, SlideShare may have the highest ratio of marketing benefits to marketers. By this, I mean there's lots of good things about SlideShare, but it hasn't been over-whelmed by marketers, at least not yet. In this regard, it reminds me a lot of how YouTube was a few years ago.
There's tons of opportunities using SlideShare for those willing to take the time to give SlideShare want it wants, which is high quality content in the form of presentations they call "slide decks".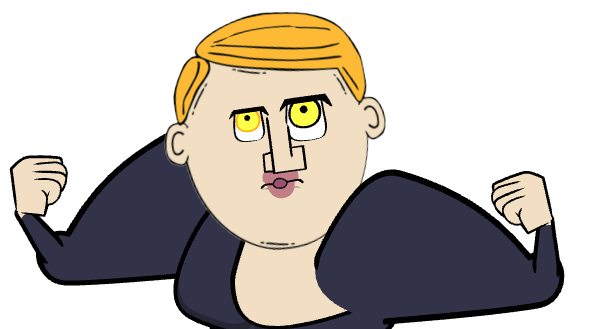 SlideShare is a Powerful Marketing Resource for the Internet Marketers of Today.
On this page, you'll discover:
SlideShare content ideas
Tons of Internet Marketing tips for SlideShare
How to make great presentations for SlideShare
SlideShare design advice and resources
…and lots and lots more.
SlideShare is one of the Top 100 most visited sites on the Net. It gets 5 times more visits from business owners than Twitter, LinkedIn and even FaceBook. SlideShare is owned by LinkedIn. It's probably not the best at getting traffic, leads and revenue for a wide variety of niches. However, like LinkedIn, if you're target market is related to business in any way, then SlideShare is were your potential clients are hanging out.
Why use SlideShare?
SlideShare is one of the rare powerhouses of IM. It combines the best of social marketing, benefiting from internal traffic, brand building, networking, content marketing and search engine optimization opportunities.
SlideShare is probably a waste of time for spammers. Your time is very likely best used making fewer, but higher quality presentation (slide decks) rather than trying to pump out as many as you can, as fast as you can. Good content is rewarded by the site's editors.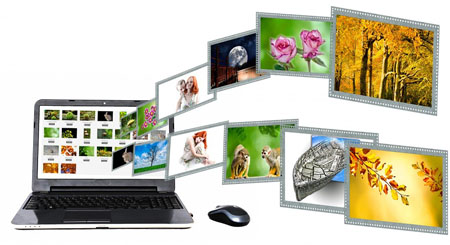 Brainstorming SlideShare Content Ideas
Be A Specialist/Expert, Not A Know It All.
If your goal is to become a niche authority and use SlideShare to its fullest potential, it's probably best to specialize in a few related subjects, instead of being all over the place and creating decks about a variety of topics.
SlideShare's 16 Suggestions for Content
Here are 16 content suggestions from SlideShare for presentations to inspire your creativity:
How To Guides




Travel




Quotes




Inspirational




Trends




Teaching

Creative Writing




Portfolios




Investments




Recipes




101's

Visual Resumes




Sports




Time Management




Photos




Case Studies
Check out SlideShare's Suggestions For Content page for examples of each topic.
Give Awards and Have "The Best" Countdowns
Awards and "Best of" lists are excellent ideas for creating content for decks. Handing out awards is a great way to break the ice with influencers.  Create a slide deck about the "best" resources, articles, reports, software, books, websites, web pages, etc.
Using "Best of" countdowns is an effective way to get people to watch your decks all the way through. Make a slide deck about something like "10 best websites for writers". Then list them each on a slide, counting down from 10to 1.
More on using awards below in "How to Use SlideShare for Marketing".
Use Other Folks' Slides for Content: Clips and Clipbards
If you're familiar with creating slideshows on YouTube, clip boards remind me of slide shows. Clips are a single slide from a slide deck that you can save. Once you've saved a bunch of clips you can make clipboards from them. Read this article from SlideShare on how to make clipboards.
You can choose to make your clipboards public or private. This means you can create your own clipboards using the slides other people make. Not only is this OK with SlideShare, they encourage it.
Tie the ability to create clipboards in with the idea of creating awards and "best of countdowns" slide decks. This has some major benefits:
1. Easy way to create slide decks.
2. Use as ice breaker to interact with major players on SlideShare by letting them know you included their slide(s) in your list of awards and "bests".
3. Leach authority by including your own slides along with the slides from the authority figures. Simple associate like this can go a long way.
4. Include your own call to action slides to get traffic, shares, friends and followers and subscribers.
Trends/Trending
It seems current, trending events and news get a lot of interaction and engagement on SlideShare. Use the following resources to find hot, trending topics for your slide decks.
Tent Poling And Special Events

"Tent poling" is how Youtube describes making content focused on specific dates and events to exploit topics that are "hot" for a short period of time. Examples are things like "National Hot Dog Day" or the anniversary of an event like when the first Rolex watch was made or Elvis' birthday.
The goal is to create content around an event in the hopes it will be covered by the press, making it a hot trending topic for a short while. While the traffic is usually short-lived, these events can create a lot of demand while they're hot. Plan ahead and make sure your tent pole slide decks are indexed by Google beforehand to capitalize on these opportunities.
For example, there's a number of anniversaries related to Elvis. His birthday, his death, the anniversary of his first #1 hit, his last concert in Las Vegas. You can help create interest in these events by sending out an "info filled" press release in advance of Elvis's birthday, with your slide deck about "12 Strange Things You Didn't Know About Elvis" embedded in the press release.
These sites list things like "Today is…", "This Week is…" and "This Month is…".
http://nationaldaycalendar.com/calendar-at-a-glance/
http://www.checkiday.com/
http://www.holidayinsights.com/
Yahoo Answers also keeps a list of events, anniversaries and "days" using this format:
http://www.answers.com/topic/june-21
Here's an interesting book on Amazon Kindle called "Weird & Wacky Holiday Marketing Guides". I bought a version that's a couple of years old and saved a few bucks.
http://www.amazon.com/s/ref=nb_sb_noss?url=search-alias%3Daps&field-keywords=Weird+%26+Wacky+Holiday+Marketing+Guide
Here's two good sites to find plenty of ideas for special occasions:
Interviews and Questions and Answers
Try to connect with some authority figures in your niche and ask each of them a couple of questions that allow for short responses. Compile the results into a slide deck and upload it to SlideShare Let the folks you interviewed know about the slide deck, giving them an opportunity to tell their people about the interview.
Hash Tag Themes – LinkedIn SlideShare's Upload Campaign Calendar
Every month, SlideShare has a kind of "theme party" where they encourage folks to create slide decks around certain topics and #hashtags. Be sure to visit this page and see if there's a topic this month that interests you.
Slide Share Campaign Calendar
Use Lots of Idioms, Metaphors and Figures of Speech
It's important to understand SlideShare is a visual medium. You need to focus on using imagery that will tell the story and the use of metaphors and idioms is a very potent strategy when creating slide decks. For more on how to use images to convey idioms and metaphors…see my Freudian Tips Report for the "Idiom Trick".
Ask To Use Other People's Content
Contact influencers that have popular articles, books and reports and ask if you can use their works to create presentations for SlideShare. Let them know you'll only be using short snippets of their work, that you'll be sure to give them full credit, and that you'll add links to where ever they want. Also let them know you'll do all the work, graphics, design, text, optimization, everything.
Add a slide or two of your own in the form of a call to action to have readers sign up for your email list or drive traffic to your assets. Not only do you get direct benefits from this, you also gain authority being associated with the influencer…not to mention if you do a good job with the slide deck, you've likely made a powerful friend.
Tell a Story
Unfortunately, I'm not very good at story telling so I really can't give you much advice other than to let you know that story telling is a very effective content strategy for SlideShare. If you're good with story telling, be sure to include stories in your slide decks.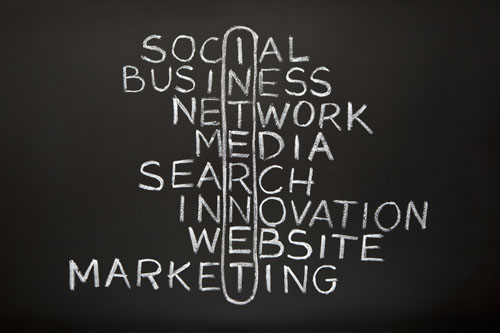 How to Use SlideShare.net for Marketing
Probably your primary goal for using SlideShare for marketing should be to get your decks featured on their homepage. Being featured on the SlideShare.net homepage will give your slide decks an avalanche of views. There's a few ways to do this…
This first is to have your slide deck selected by one of the SlideShare editors as one of the 3 slide decks listed on the top row of the homepage. There's no algorithm to mess with. It's simply a matter of human decision making. This is good news, if you create worthwhile content. You don't have to pay for any advertising or build a huge audience before your decks can be featured on the home page. Your slide deck "only" needs to be good. And creating visually good decks with interesting and and valuable information should be the foundation of your SlideShare marketing strategy.
You can also have your decks listed on the homepage by having a good number of social shares from Twitter, LinkedIn, FaceBook and Google+. When you go the the SlideShare homepage scroll down until you see "Trending in Social Media". There you will find the decks that have been shared on social media.  If you click through to each category for the social media platforms, you'll see that SlideShare lists even more decks, using a variety of filters. Being listed on one of these sub pages pages is very beneficial. However, it's getting your deck listed on the homepage that will really drive views.

Pay To Tweet
Pay To Tweet is a social "content locker" where people can get a special gift from you, but only if they share your content on their social media account. Basically, if they share your content, you'll give them something of value. What makes Pay To Tweet a little different from other social content lockers is that you can add a Pay To Tweet links directly into your SlideShare slide decks. This means you can offer some type of freebie in exchange for your slide deck being shared on Twitter.
The slide deck below shows you how to do it. Note that you don't need to use DropBox is you have your own hosting account where you can upload your give-away:
Tip: If you don't have a special report or other gift to give away, you can create a PDF of your slide deck and use it as a "bribe". Add a message to the slide with your Pay To Tweet link that goes something like "Download this entire slide deck to your PC. Just tweet this slide deck and get instant access."
When creating your message to be tweeted, use a mention for yourself in the tweet so the results will be easier for you to track. To create a mention, just use the @ symbol before your Twitter user name, like so:
@MyTwitterHandle
Lead Share
LeadShare is a paid service that allows you to insert forms directly into slides to collect leads, emails addresses, etc. I haven't used it, but from what I've read about it, it's fairly expensive, but I recommend you check it out for yourself and at least be aware that it's a possible option.
Here's a few Lead Share features and benefits:
The forms work on desktop and mobile devices.
If a lead has a LinkedIn account, their info will be filled in automatically.
It will target leads by geographic location.
The forms will show on both SlideShare's site and when the slide decks are embedded on other sites.
Seek Authority
The best way to become an authority in your niche on SlideShare is to leverage authority from the existing influencers in that niche. Comment and compliment them on their slides, use a quote citing them in your slides, give them an "award", etc. Scratch someone else's back and they're much more likely to scratch your back. Creating relationships with people that are already successful may be the single most powerful marketing strategy, both offline and on. Don't expect them to do something for you just because you'd appreciate it. Give and give and give to someone successful before even thinking about asking.
SlideShare Keynote Authors – SlideShare invites the best of the best content creators into their Keynote Speakers. This is a good starting point for people you want to follow and interact with, as well as learn from and use their slide decks as examples and inspiration for your own projects.

SlideShare SEO
SlideShare has a number of SEO benefits and is a major authority site which Google seems to give a boost to in its search results. Basic SEO techniques and principles apply. At this time, it appears SlideShare works very well with long tail keywords.
Basic SEO
Use your main keywords in the following:
Title – As with most things SEO, the title of your slide deck is probably the most important aspect when it comes to ranking. The title you enter for your deck when you upload it will become the page title for your view page. The deck title will also be used in the <h1> (header tag) on the view page, as well as in the URL of your slide deck view page.
Slide deck description – Include your primary keywords as well as a few secondary keywords.
Tags – May or may not help with Google, but are important when using SlideShare's internal search engine. I suggest you mix up the number of tags from deck to deck, ranging from 3-20+ tags or so, with a majority of your decks having between of 3-7 tags. It's probably helpful to use your main keyword as the first tag.
File name – When you save a presentation on your hard drive, name it with a primary keyword, such as dogtraining.ppxt or dogtraining.pdf. I'm not sure if this has an impact on ranking or not, but it's so easy to do it may as well become a habit.
User name – If you have a LinkedIn account and connect it with SlideShare, SlideShare will use the same user name. SlideShare will also pull your profile from LinkedIn and you won't be able to modify it in SlideShare. Despite these inconveniences, if you have an established LinkedIn account with a number of followers, I suggest you connect it with SlideShare because of the social benefits of your LinkedIn account, which likely is more beneficial in the long run than doing SEO on your SlideShare profie.
However, if you don't have a LinkedIn account and don't plan on having one, use the most general keywords related to your niche in your SlideShare user profile. Don't "stuff" keywords, instead put some thought into how you can work them into your profile in a natural way.
Transcript – SlideShare will generate a transcript automatically from the text you use in your presentation. The transcript will be displayed on your slide deck view page, below the comments. The text in your transcriptions will often make up the bulk of the search engine readable text on your video view pages. To both Google and the internal SlideShare search engine, it's the content in the transcript is that is read, not the content in the slide deck itself.
You need to understand the different between "plain" text and a text image. If you use text images, the "words" won't be included in the transcript.
SlideShare uses the text in your slides as the description on the page. You can "hide" text behind images you want to use in your transcription but not want your viewers to see. Personally, I don't consider this to be "cheating" because the text hidden behind the images will be displayed in full sight to all viewers in the transcription.
I suggest you use this "text behind an image" technique to add additional information that would clutter the slides if it was included in the foreground of the slide. There's times when I will just read the transcriptions and not click through an entire deck. Any added info is helpful in this case…just don't over-do it.
Comments – Be the first to comment on your own slide deck pages and squeeze in a keyword or two. By posting the first comment on your slide deck, your goal should be a little bit of SEO and a litte bit to encourage interaction. Note that if your SlideShare account is connected with LinkedIn, your LinkedIn "tag line" will appear with each of your comments. Your LinkedIn tagline should tell people something about you and help brand yourself so people remember you easily.
Recent Traffic – Recent activity probably plays a fairly important role in being featured on the SlideShare home page and possibly in the SlideShare internal search rankings.
Important Note: Unlike Youtube, SlideShare allows you to modify and update presentations, then re-upload them. If your slide decks aren't ranking in Google or the internal search engine, one of the best strategies you can use with your presentations is to change the keywords used in the title, tags and descriptions as well as in the content of your presentation (transcription). If your slide deck is ranking well but not getting any action, try changing the cover slide.
This means, unlike YouTube videos, you can rework a slide deck for different keywords and re-upload it with out losing anything like comments or internal and external links.
Internal and External Links
No Follow / DoFollow
External links appear to be no follow. Linking out to authority sites probably doesn't have much, if any, impact on Google rankings. But doing so won't hurt SEO and I suggest you do when it's beneficial to your decks' viewers.
SlideShare's internal links are a strange mixture of do follow and no follow.
Tag links are no follow.

When you post a comment on someone else's slide deck view page, links to your profile page are no follow.

However, on your own video view pages the links to your own profile are do follow. In theory, the more slide decks you have, the more link juice you "should be" building to your profile page.

Your profile page has do follow links to your "presentation" page, which has do follow links to your own presentations.Links from the home page to slide deck view pages are follow. These probably pass a lot of link juice, considering the authority of the SlideShare homepage. However the flip side is these links are temporary. This probably means the links will have more value in Bing than Google, if Bing indexes the home page when a particular link is included.

Followers and Following links on SlideShare are "Do Follow" links. By following other members, you should be able to create some internal link juice. But you also need to balance this with the social aspects of SlideShare as well as the benefits of being selective with the content that appears in your own timeline. Do you want link juice at the expense of a more cluttered content stream?

When you follow someone, their content will appear on your feed page, similar to how Twitter works. I haven't tried the "Follow to be followed back" strategy used by many on Twitter to gain followers, and this may be something you want to test for yourself.
One important thing to note is that links on slides 1-3 are NOT clickable in SlideShare slide decks. However, links on every slide starting with #4 and after will be clickable. Design your slide decks accordingly.
Your first 3 slides need to be designed to hold interest to have viewers reach the 4th slide and beyond, where you can start placing links with call to actions that encourage people to click to your blog, email squeeze pages, purchase pages, etc.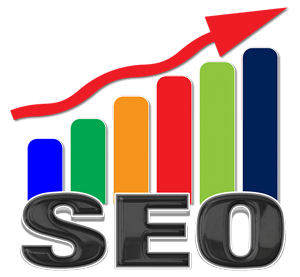 Long or short presentations?
I've read stats that say the average for number of slides in a deck range from about 14 to 19. However, I've also noticed many of the most popular decks have 40+ slides. Having multiple short decks instead of a single long deck does give more opportunities to rank and for you to optimize for different keywords. However, 30-50 slides seems to be the sweet spot for SlideShare editors to select decks to display on the homepage.
As I've said for the 20 years or so that I've been doing SEO, when you have two reasonable choices, do both. Mix things up and create both long and short slide decks to cover as many bases as possible. Your best bet is to concentrate on creating your own method for making QUALITY slide decks as quickly efficiently as possible.

Building Links to Your SlideShare Presentations
Because of SlideShare's authority status in the eyes of Google, and with educated keyword selection, you probably won't need to spend a lot of time, effort and money building links to get your slide deck view pages to rank pretty well.
I suggest you build a foundation for your link building and instead of spending loads of time and money building links. Instead concentrate your efforts on creating more quality presentations. It's a quality and quantity issue. The more slide decks you create and the better they are, the better your chances are for success.

Grab Your RSS Feed URL
RSS is just an alternative way of displaying content. It's a very simple method for sharing content, without complicated layouts or other fancy website gizmos. What RSS lacks in features it makes up for it by being easy for other programs and sites to read.
For a quick example, blogs use HTML to display content. They also commonly use RSS to display a "summary" of the exact same content. SlideShare also has both HTML and RSS versions. The HTML is the version we typically see, while we can use the RSS version to help build links to our slide decks through the use of automated syndication.
First, here's the United Nation's profile page on SlideShare:
http://www.slideshare.net/unitednations
Here's the RSS version:
http://www.slideshare.net/rss/user/unitednations
Notice not only the difference in the pages, but also in the URLs. You'll want to find the URL to your own SlideShare RSS feed and keep it handy, we'll be using it for a few powerful marketing techniques. Notice the /rss/user/ added to the RSS URL. Do the same to get your URL, using your account name.
The first thing you want to do is submit your RSS URL to some of the major RSS directories. You'll only need to do this one time.

Essential Directories to Submit Your SlideShare RSS Feeds (One Time)
http://www.newsisfree.com
http://www.feedster.com
http://www.icerocket.com
http://www.feedbite.com
http://www.feedage.com
http://rssfeeds.com

Optional – Pick a Couple of Secondary RSS Directories and Submit Your RSS URL:
http://www.rss-specifications.com
http://rssmicro.com
http://www.feedcat.net
http://www.plazoo.com
http://www.bloghub.com
http://chordata.info
http://www.rssbus.com
http://www.feedmailer.net
http://plak.co.za
http://www.rssbuffet.com
http://www.rssfeeds.org
http://www.realtyfeedsearch.com
Next, you'll want to ping your RSS feed URL each time you either upload a new slide deck or modify one. Pinging just notifies a number of sites that there's been an update and pinging is different than submitting to RSS directories.
It's easy, just take your SlideShare RSS feed and input it into only ONE of these ping sites no more than once per day. Don't use more than one on a given day, as they all contact basically the same sites and you don't want your URL banned for spamming, especially since there's no benefit to pinging more than one service.

Ping Sites (Ping just ONE every time there's an update, no more than once per day)
http://www.bulkpinger.com/ping/index.php
http://www.bulklink.org/
http://www.pingfarm.com/
http://backlinkping.com/

Use Your RSS Feed to Set Up an Automated Syndication Network Using IFTTT
IFTTT.com is a FREE site that will syndicate the content of your RSS feed to a number of other sites. IFTTT means "if this, then that".
For example, we'll set it up so that:
IF my SlideShare RSS feed is updated, THEN post the content in my RSS to Blogger.com.
There's about 20 major sites that IFTTT works with, like Tumbler, WordPress and many more. This means once your IFTTT network is set up, you will be building about 20 links to each and every slide deck you upload on auto-pilot. If you upload 20 slide decks, that's 400 links.
Setting up IFTTT networks can take some time. But it doesn't cost much to have someone else do it. Here's a couple of good services that will create your IFTTT networks for you at really great prices. (Affiliate links)
IFTTT SEO: 20 Channel IFTTT Syndication Network
Tier 1 IFTTT Syndication Network for Website or YouTube Syndication
Remember, you only need to have this set up one time per SlideShare account. After it's all set up, every time you upload a new slide deck, links to the slide deck will automatically be posted to all the sites in your IFTTT network.
Even though these services will create about 20 accounts to use with IFTTT, I suggest you don't use IFTTT with these sites:
Twitter
Facebook
LinkedIn
Google+
Instead, after these accounts are set up, manually use the "share" buttons on your slide deck's view page, as these will help build your "share" counts a little bit on SlideShare, potentially getting your decks closer to being posted on the home page.
It's probably easier for you to just log into your IFTTT account and disable these 4 sites than telling your out-sourcer to do it for your.
I suggest you use a "branded" network, which means you use the same name, or one as close as possible, as the one you use for your SlideShare account. This will likely reduce some duplicate content issues, as it's perfectly natural for the same person or business to have accounts across a number of sites such as Twitter, FaceBook, etc., and to post similar content to those other accounts.
If you outsource this, just instruct the person to use the same name as your SlideShare account. If they can't use the exact name on all accounts, add a middle initial or "2", "two", "247", your area code, etc.

Build Links To Your IFTTT Network Accounts
In most cases, setting up an IFTTT auto syndication network will be enough to get a good percentage of your slide decks that are optimized for long tail keywords to rank in Google. However, for tougher keywords, you may want to build a "tier 2" link network. These will be other sites, in addition to your IFTTT network sites, that link to your SlideShare link deck view pages, as well as to your IFTTT network accounts, pumping link juice to all of them.
For these second tier link networks, I suggest using a program called FCS Networker. (affiliate link)
Some of the FCS sites will allow you to directly embed your slide decks. When possible, I suggest you embed them, as SlideShare keep a tally of embeds for each slide deck and this could factor into internal ranking as well as getting the attention of the editors who select the decks that appear on the home page.
Other FCS sites will be used for creating links to your assets…while other sites are bookmarking sites.

Exploit Parasite Sites
"Parasites" are sites that Google seems to favor in the search results and that you can create accounts and post content. SlideShare itself is considered a parasite by many SEO experts. Its content tends to rank highly and you can create an account to post content on it. To get the maximum benefit from parasites, use only totally unique and original, high quality content.
Because of their authority, parasites can generally withstand more aggressive linking than your own domains. It's also safer, as getting an account banned on a parasite is much better than getting your own domain banned.
A potent "off page" SEO technique for SlideShare is to embed your slide deck on other sites, such as your own site/blog as well as parasites. Then, do a good job of optimizing those pages. If the parasite won't let you embed slide decks in them, then add a link to your slide deck on SlideShare instead.
Not only can these other pages potentially rank directly themselves for the given keywords, they will help boost the SEO of your SlideShare view page too. Using SEO on these other pages helps the keyword relevancy for both the external page as well as the SlideShare view page, the embedding of the slide deck builds link juice.  And anyone that visits these other pages can watch your slide deck, increasing its views.
At the end of this report, you can download a big collection of parasites and Web 2.0 sites to build links and embeds to your slide decks. You can also use FCS Networker (affiliate link) to build links to these parasites in an attempt to get them to also get them to rank highly in Google, giving you multiple top listings.
More SlideShare Marketing Tips, Tricks and Strategies
Add YouTube Videos to Slides
SlideShare doesn't have the ability to show animations or other movement in your presentations. However, it does allow you to add a YouTube video just by adding the URL of the video. You can use SlideShare to help increase your YouTube views as well as using the videos to make your slide decks more interesting and appealing.
Do keep in mind that the majority of SlideShare users are using mobile devices and bandwidth usage is a concern for them. So make sure the videos you include are short and if using video seems to be hurting your views for a slide deck, you can always remove the video.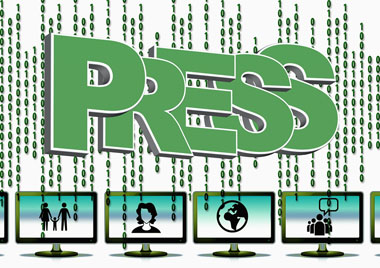 Take Advantage of Newsworthy Topics
In the content brainstorming section above, we talked about special events, occasions, anniversaries, etc. Taking this a step further, you can embed your deck into a press release and submit it press release submissions services such as PRWeb and/or PitchEngine along with the embedded slideshow. Press releases can be used to get publicity for you or your business, to build links for SEO purposes, and increase your embed counts especially if your press release is picked up by major news sites.
Social Marketing Strategies Using SlideShare
Interact With Your Viewers
Remember, SlideShare is first and foremost a social site. Engage with your viewers when they comment on your slide decks. Like and share other people's decks. Comment on their slide decks. Follow other users. Interaction with other members helps your own slide decks show up on their feeds.
Try To Concentrate Social Shares on SlideShare to One Social Network
SlideShare has a link to a list of the "most shared" decks decks on their home page for the various major social sites. To be a "most shared", you may be better off asking viewers to share your deck on a single social media site, such as Twitter, instead of giving them the choice of 3 or 4 different social media sites. This way, you may be able to concentrate your shares on a single social site, and get your slide deck listed as "most shared on Twitter". By offering multiple options, you could be dividing your social share count among the various social sites, resulting in lower total share counts for each.
Reasons Why You Should Use MassPlanner for Your Social Accounts
MassPlanner (affiliate link) is a program that helps build social networks. It's inexpensive, costing only $9.95 a month. It allows you to manage two accounts each on these major social networks:
FaceBook
Twitter
Google+
LinkedIn
Pinterest
Instagram
If you need it to post to more accounts, they sell upgrades for a small one-time fee. Note that auto posting software is against Instagram's terms of service.
One important feature is that you can schedule posts for each of these social accounts. Now, I know what you're thinking…there's some free services that will schedule posts for you. Here's the difference. When you use an online service like Hootsuit or Buffer to make posts for you, they are required to add a small note that the post was made by them. Next time you're on FaceBook or Twitter, look for posts and tweets that include "Buffer" and "Hootsuite".
Personally, I don't like having those little "notes" on all of my posts. Since MassPlanner runs on your PC, it doesn't include these little notes that are dead give-aways that these posts were made using automation.
Even more importantly, these online options don't build friends and followers for you. MassPlanner will automatically friend and follow people to constantly build your reach. And because it works across multiple social networks, you can add (and delete) friends and followers at a slow pace, while increasing your over-all reach at a good pace. Getting just 20 followers a day from each of these social networks is a total of 120 total per day. That's 3,600 every month. And that's at a slow, steady pace.
Sure, a good percentage of these will be bots, however even bot accounts can help with your SEO and social signals. But the number of real people will constantly increase too.
By building your social following, you're increasing your reach for not only your slide decks, but all of your resources as well. And your slide decks can make for great content to share on your social sites.
Check out MassPlanner here. It has a free, fully functional 5 day trial (affiliate link).
Connect Your SlideShare Account With Your Facebook, Twitter, and LinkedIn and Google+ Accounts.
When you connect SlideShare with Facebook, all of your FB friends that also have accounts on SlideShare will be automatically added as followers.
LinkedIn owns SlideShare so the two are well integrated. Be sure to connect LinkedIn with your SlideShare account so whenever you upload a new slide deck, it will also be shared on your LI timeline. Also, embed your slide deck in relevant LI groups, on your company pages, as well as in your LI "long form posts". Long Form posts are basically your own blog on LI.
To publish a long form post, click on your LI homepage icon, then look for the "Publish a post" button. Note that this feature may not be available to LI members in all countries/areas. For more info on LinkedIn posts, see:
https://www.linkedin.com/help/linkedin/answer/47445
https://www.linkedin.com/help/linkedin/answer/47538
Tip: Any time you publish a post on LinkedIn, use FCS Networker (affiliate link) to build links to your post. LinkedIn is also a parasite which means your LI posts can also rank highly in Google.
Use @mentions of Influencers in Your Tweets and Tag 'em in Your FaceBook Posts
When tweeting your slide decks use @SlideShare to get the attention of the SlideShare editors assuming of course that your slide decks are top notch.
Use relevant and poplular #hashtags as well as @messages to influencers. Be careful and don't be spammy with these techniques. Your best bet when using the @message for influencers is to make sure they are included in your slide deck in a positive way, such as giving them an award or listing a resource of theirs as on a "Best" list. When done correctly, this can have a major marketing impact on your SlideShare campaigns.
Example tweet:
I included @MrGuru great post about dog training in my Best Dog Training Tips on www.slideshare.com/MyNewSlideDeck.
Post a link, including a pic from your deck on your Facebook account. Just like for Twitter, you can "tag" influencers by using @ before their name. You can do the same for fan pages. If you know an influencer has a fan page, maybe for a product or service they offer, you can tag the fan page. Or if you know of any popular fan page that is extremely relevant to the topic of your slide deck, you can tag it.
Just be aware that you must first be connected with the influencer on Facebook or have liked the fan page. And be extra sure that your slide deck is 100% relevant to any person or page you tag. If you tag a person you are connected with, your FB post will appear on their timeline, assuming they have their privacy settings set to accept tagged posts. If you are going to hijack the time line of an influencer, you must be 100% sure to do so in a way they like, such as by promoting them, giving them an award and/or complimenting them.
SlideShare counts external embeds and it may be a factor in its own search engine as well as a possible signal for the editors to take a look at your deck in consideration of putting it on the SlideShare.net homepage.
Get Chunky With It
Use your slides as content for your other social networks. Export slides that can "stand on their own" as individual images and upload them to image sites like Pinterest, Flickr, Instagram. You can also use these images as individual posts on your Facebook time line and fan pages, as well as Twitter. You can either link to your own pages containing the embedded slide deck or to the view page on SlideShare, or both.
I take the slides and content from the transcripts and cut them up into little bit-sized "chunks" of content, then load them into MassPlanner, and have it automatically post each chunk of content to my social accounts. This way, my SlideShare decks are used as content for my social media accounts and my social media accounts build links and exposure to my SlideShare slides.
Send Views To Yourself
Add thumbnail images of your other decks with links to your other related decks to increase views of your other uploads. This is similar to using "end cards" aka "end slates" on YouTube videos.
Turn Your Slide Decks Into Animated GIFs
GifDeck is a very cool free service that will convert your SlideShare decks into an animated GIF. Add the GIFs to your emails, Facebook posts, Twitter tweets and more to really grab attention, along with links to your own pages with the embedded slide deck or to your deck view page on SlideShare.
Be a Master of Headlines and Call To Actions (CTAs)
Your goal is to get more traffic to your slide decks and get better results from that traffic.
Good headlines get attention and build interest, while good CTAs get action. Getting people to your slide decks is the first step. Maximizing your decks' effectiveness is the next step. With good use of headlines and CTAs you can double or even triple (or more) your results with the same amount of traffic.
Think about this concept. Let's say your slide deck gets 100 views per day, but you don't have a single CTA in it. Your chances of converting people into leads and subscribers is exactly zero. Just by placing a CTA in your slide deck, you've at least given your deck a chance at some success. And by adding effective CTAs, you'll increase the odds of success even more.
It's your job as a marketer to make it as easy and obvious for your viewers to take your most desired action. Use good CTAs to make it as easy and obvious for your viewers to give you your most desired action. You can add more than one CTA to a slide deck, but never add more than one CTA to a single slide, unless your are using segmentation. (see below)
Headline Writing Tips and Strategies
19 Headline Writing Tips for More Clickable, Shareable Blog Posts
The Step-by-Step Guide to Writing Powerful Headlines
How to Write Better Headlines [Infographic]
Magnetic Headlines
Headline Swipe Files – Swipe files are collections of successful headlines written by some of the best copywriters in history. Even the most experienced copywriters often refer to swipe files. Tweak and modify them to suit your particular needs.
Swipe & Deploy These Multi-Million Dollar Earning Headlines
Steal this Headline Swipe File to Get More Clicks from Social Media [Free Download]
32+ Headline Formulas: The Non-Copywriter's Guide To Writing Headlines That Get The Clicks
Free Headline Generators – Still need help creating headlines to use in your slide decks? Use one of the  headline generator tools.
Tweak Your Biz Title Generator
ContentIdeator
Link Bait Title Generator
Create 700 titles with ONE CLICK
Free Headline Generator
Headline Analyzers – Don't take these analyzers' recommendations literally. Some of the best headlines ever written will get low scores from these analyzers. However, they can be good teaching tools for those just starting their education when it comes to writing headlines.
Emotional Marketing Value Headline Analyzer
Headline Analyzer
Increase Your Results With These Call To Action Tips and Tricks
5 Tips to Create an Effective SlideShare Call-to-Action
17 Best Practices for Crazy-Effective Call-To-Action Buttons
21 Call to Action Examples and 3 Rules for Effective CTAs
HubSpot Academy – Call-to-Action Best Practices
Segment Your CTAs
By giving your viewers two different but simple choices, you can greatly increase the effectiveness of your call to actions. Here's an example of segmenting:
Below is an example of how you can use a Call To Action in a slide to segment your viewers: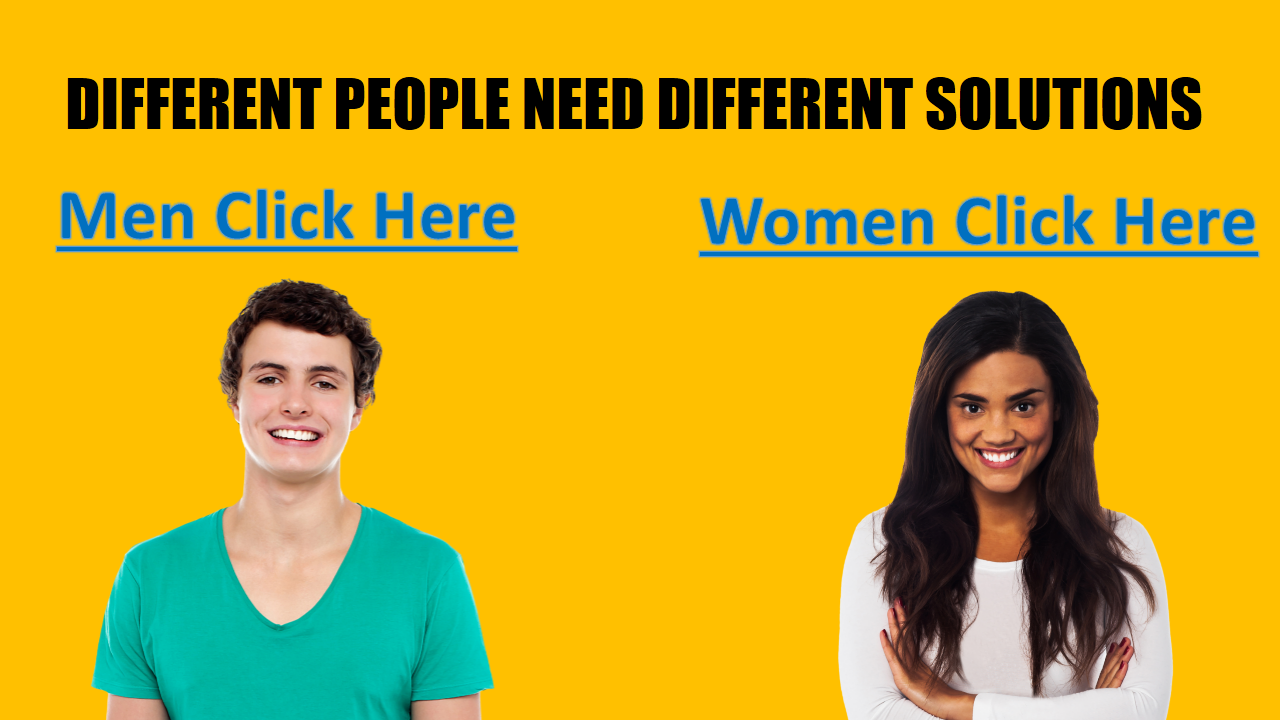 Notice that the CTA above gave only two choices that were very clear.
Another example of how you can segment viewers:
Click Here If You're Interested in Marketing Services
-or-
Click Here If You're Interested in Do It Yourself Marketing Tips
Each option would lead to a different email squeeze page on your website connected to separate email lists. On one list you would sell people marketing services and the other list you would give and sell marketing info and marketing related software.
Not only will you be able to provide content and offers that each segment is specifically interested in, you'll very likely get more subscribers as well.
To repeat, include no more than two distinct options. It's been proven that too many options only confuse people, resulting in them not taking any action at all.

Using SlideShare for Building Email Subscriber Lists and Collecting Leads
Above I talked about Lead Share, SlideShare's paid lead generation service. You can collect leads for free using SlideShare. In the majority of your slide decks, unless you have a very specific reason not to, you main focus should be on getting people to go have folks give you their email address.
First, create slides with a segmented call to action as we discussed just above. Create links in your slide to two separate landing pages, sending each segment to separate landing pages customized for each segment.
Each of your landing pages should have one and only one choice: To subscribe to your list.
If you also want people to share your slide deck or take some other action, put these other options on your thank you page and in your emails. But do NOT put any other option, link or distraction on your landing pages. All they can do is either enter their email address or close the browser window.
In the segmenting example above, one option was for people interested in hiring marketing services. To screen leads, in addition to name and email forms, include input forms for company name and company website. You will probably get fewer leads by adding additional forms. However, your leads will be much better qualified. By requiring a business name and website URL, you can be fairly confident this segmented list has actual business owners.
Of course, if you are targeting businesses without websites, you don't want to include a form for "business website URL", or make it optional.
A good strategy is to offer this segment a free service, such as a social media audit or a check to see if their site is mobile friendly. You can include these as a free offer in your CTA to help generate leads.
For more ideas for services can use as free or cheap "ice breakers",  see my Marketing Plan for Video Makers and Marketers That Want To Sell Their Services. While the title suggests it's only for video marketers, there's a number of suggestions and resources that will work for a variety of Internet marketers interested in selling their services.
For the DIY marketing segment landing page, keep it as easy for them to sign up as possible. Only require an email address…and MAYBE a first name.

Make Money Marketing Your Presentation and "Visual Resume" Creation Services
If you have a good eye for design, research and SEO skills, as well as a good grasp of headlines and CTAs, you can promote your presentation creation and marketing services. Create good slides about topics that will interest business owners and use CTAs to encourage business owners to contact you about your services.
Everybody is offering website design and video creation services. Be different. Offer presentation services, especially considering your main method of promotion is on a presentation website.
For an example, here's a presentation creation service that got its start making slide decks on SlideShare:
Another service you can offer is to create "visual resumes". Considering SlideShare is owned by, and connected to LinkedIn, and LinkedIn is the premier site for job hunters and recruiters, there is immense potential for quality slide deck resume makers.
And don't forget about the potential for creating "help wanted" presentations for those looking to hire folks as well. Good, high quality presentations will make your clients' job opportunities really stand out.
How to Make Great Presentations on SlideShare – SlideShare Design Tips and Resources
Disclaimer: I am seriously "artistically challenged". The tips, methods and resources listed below are for other designers that lack artistic talent. If you happen to have talent, pay no attention to me and do what you do best.
There's a number of programs you can use to create presentations to use on SlideShare.
OpenOffice (free)
HaikuDeck (free)
Google Docs (free)
Canva (free)
Prezi (free)
Keynote (Mac)
PowerPoint
I use and suggest PowerPoint, as it can also export presentations as videos, so after you upload your slide deck to SlideShare, you can add easily make a video to upload to YouTube, increasing your marketing punch without hardly any additional effort. I do suggest that you add a voice over for YouTube videos for the best results, but it's not required.
PowerPoint also has the most resources like training videos on YouTube and free and paid templates and themes.
PowerPoint has a free 30 day trial, then you can "rent" it from The Cloud for $6.95 a month, which includes other Office software like Excel and Word. Another option is to buy a version of PowerPoint on eBay. Just make sure that you get PowerPoint 2010 or later, as these versions can export as videos.
SlideShare is a visual medium. More images. Less text
When designing slides always remember a big majority of SlideShare users are on mobile devices. In this infographic, SlideShare recommends to use a big font size so mobile viewers can easily read the text on the slides. They also suggest limiting the number of words on each slide to less than 30.
Maybe the first lesson to learn when designing slide decks for SlideShare is how not to suck at designing slide decks for SlideShare. Check out this popular deck with close to a million views:

You Suck At PowerPoint! from Jesse Desjardins – @jessedee
After you've mastered how not to suck, the next step is making slide that rock:

Slides That Rock from Slides That Rock
Below is an excellent deck packed with great advice on how to design slides for maximum marketing benefits:

How I got 2.5 Million views on SlideShare (by @nickdemey – Board of Innovation)
Not only should you pick up a few design and marketing tips from the slide decks embedded above, you should also use them as inspiration for your own slide decks.
PowerPoint Themes, Templates and Backgrounds
Pretty much any image or picture can be used as a PowerPoint background. It's more a matter of the quality, size and shape of the image than anything else. You can use the same background image throughout your slide deck or mix them up. Of course, you can use images on top of background images as well. So don't be confused by the term "PowerPoint backgrounds" if you ever come across it. PowerPoint backgrounds are simply images.
The difference between a theme and a template is that a theme basically controls colors and fonts for every slide across the presentation, while a template is a combination of images, text and animations. And since SlideShare doesn't display animations, we don't have to worry about animations.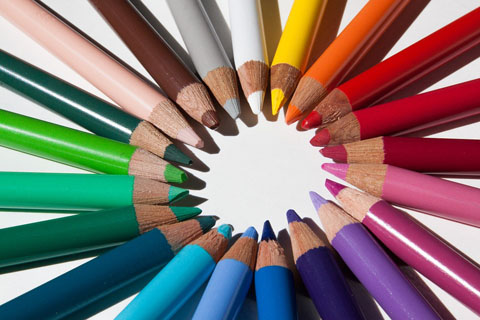 Here's a list of sites that offer good, free PowerPoint Templates. Be sure to check the terms of use for each.
Note that an issue with using templates from these sites is there's a chance they've been used in other slide decks on SlideShare. You want to make sure your own presentation look unique and original.
Excellent Free Image Resources
Also see my Best Free and Cheap Video Creation Resources for lots and lots more free image and media resources.

Be Extra Careful Using Images of People's Faces
Kozzi – Here's the deal…while there's tons and tons of excellent free images you can use, you need to be extra careful of using pictures of people where you can identify who they are. When using a face of a person, you typically need to be sure they signed a model release form. In the cases where I need to use models, I use Kozzi. All of Kozzi's models have signed release forms and Kozzi is the cheapest image site I've found for pictures of all types of models.
I try to use the free image sites for the majority of my images, and Kozzi when I need images of real, identifiable people.
Another option is to use images of people where you can't clearly see their faces. Maybe it's an image of them from afar, or from the side. Maybe their hair or a hat is covering their face. Just make sure no one could identify the person in the picture.
Canva – The online graphics editor is also an excellent resource for designing slides in as it has a template just for presentations. While Canva can be great for creating images to use in your slides, remember that they are images. Any text as an image won't be picked up as content when uploaded to SlideShare. In this case, be sure to put actual text behind the graphic image so the text will be used in your slide deck's transcription, needed for potential SEO benefits.
You can try exporting and uploading as PDF if your uploaded slide decks have poor quality or your fonts are incorrect. However, you'll run into the same problem by not being able to place text behind images to use in your transcriptions without it also being visible in the slide.
The embedded slide deck below shows how fonts end up looking on SlideShare:
Your Slide Decks Must Look "Marvelous"
It's important that your slide decks on SlideShare.net look good, especially your first slide which will be used as the cover slide for your slide deck. For SlideShare, think of your cover slide as the cover of a magazine in a rack full of other magazines. Folks are glancing over all the magazines, deciding which one(s) to check out. Your cover slide needs to do these things:
Look appealing.
Attract attention.
Stimulate curiosity.
One of the best ways to get ideas for designing slide decks for SlideShare is to view a number of the most popular presentations. The view count isn't always a good indicator of good cover slides, as there's a number of other factors concerning the number of views a slide deck gets. But it can help you get an idea of the designs of popular cover slides, as well as ideas for similar topics.
Now the dilemma. Sure, you want a great looking cover slide, but do you want to look like the all the others or do you want to stand out? My answer to these types of questions is almost always "both". Your plan for using SlideShare shouldn't be creating a single presentation. Instead, it should be how to create as many QUALITY presentations you can, as fast as you can. The keyword being QUALITY.
And since you should be making multiple slide decks, I suggest sometimes you try to have your cover slides that generally look like the other covers of popular slide decks and other times trying to stand out.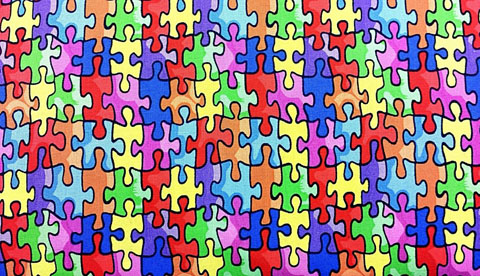 Putting the pieces of the SlideShare design puzzle together.
The colors red, yellow and orange tend to attract attention more than the other colors. However, getting attention isn't the only factor, other colors can convey other messages.
For more on the psychology of color, see:
The Psychology of Color in Marketing and Branding
How Colors Impact Moods, Feelings, and Behaviors
Color Psychology
How To Match Colors For Those of Us That Are Artistically Challenged
Use Color Palettes to Coordinate Colors
Color palettes are groups of colors that work well together. Unless you're really good with colors, I highly suggest you stick to the color groups used in palettes to make sure your slides look their best.
Color Palette Generators – Upload an image to these sites and they will generate a color palette using the colors in the image:
http://palettegenerator.com/
http://www.cssdrive.com/imagepalette/
Color Palette Collections
http://www.color-hex.com/color-palettes – I use this site a lot when looking for color schemes for design.
http://www.colourlovers.com/palettes – This site claims to have over 1 million color palettes.
Tip: After selecting a color palette, I'll often copy the image of the palette, then paste it into PowerPoint, then use the eyedropper tool to select the colors in the palette to use in the fonts, background colors and other objects used in the PowerPoint presentation. Once I'm done with color selection, I simply delete the palette graphic.
Tiny Eyes – Pick a color from the chart and this tool will find Creative Commons images on Flickr that use that color predominantly in the image. You can use these Creative Commons images in your projects, however you will likely need to give attribution for the images. Be sure to check the terms for any image you use. However, this could be a very useful tool if you want to maintain a constant color theme throughout your presentation.

Composition
Composition is the layout of each slide and how you organize the objects, images and text. This is a tough design element for many of us. As someone that's artistically challenged, I typically try to follow the "Rule of Thirds". Although not really a rule, it's more a suggestion for those of us that don't know any better.
Here's a quick video I made about using The Rule of Thirds in PowerPoint.
Fonts

Generally speaking, you don't want to use "fancy" fonts in your designs. However, designing for SlideShare is different. You definitely should consider using unique and creative fonts, especially on your cover slides and for your headlines. But stick to the "basic" easy-to-read fonts for your text content. And don't ever use more than 2 or 3 fonts throughout your slide deck, unless you really know what you're doing and are great with design.
For those of us that aren't artists, remember this: The less "stuff" (colors, fonts, etc) you use, the less likely you are to mess something up. Keep it simple Picasso.
Use serif and non-serif fonts together, one for the headline and one for the body text. Use a bold font for the headline and a slim/narrow font for the body text, or use a script/handwriting font for the headline.
Free Fonts With Commercial Rights
WhatTheFont – A good way to pick great fonts is to let the great designers do it for you. Seek out great looking designs, then use What The Font to tell you the font that is used.
TypeGenius – Helps match pairs of fonts that look good together.
Try using a shade of gray for body text.
Use shapes with transparency set to around 50% as backgrounds for text to the help text become more readable and/or to make the text more obvious.
More SlideShare Resources:
You can link to a specific slide in a deck. Just take the base URL for the deck, then add a / and the number of the slide after the URL. For example:
This is a URL to a slide view page:
http://www.SlideShare.net/AmitRanjan/10-tips-for-getting-the-most-out-of-SlideShares-lead-generation-program-leadshare
However, by adding a / and the number "22" to the end of the URL, when we visit the link below the view page will display slide #22:
http://www.SlideShare.net/AmitRanjan/10-tips-for-getting-the-most-out-of-SlideShares-lead-generation-program-leadshare/22
How to get more followers to your social accounts using SlideShare
https://blog.SlideShare.net/2013/01/08/get-more-followers-by-adding-a-SlideShare
Check out SlideShare's blog for info and tips.
https://blog.SlideShare.net/
The Ultimate Guide To Hitting The Front Page on SlideShare
https://www.socialfresh.com/slideshare/
SlideShare and Pinterest: 8 Ways to Use Them Together for Viral Marketing Power
http://chicgeekacademy.com/slideshare-and-pinterest-8-ways-to-use-them-together-for-viral-marketing-power/

After creating content for SlideShare, consider uploading your projects to these sites.
Top 20 High PR Dofollow Document Sharing Sites List –
Top 20 SlideShare Alternatives To Create & Share Online Presentations
6 SlideShare Alternatives
Extreme SEO Power Resources – Get Your FREE Mega-List of Parasite Sites Here: