Maybe the single most powerful tool ever created for local video marketers is now 100% FREE.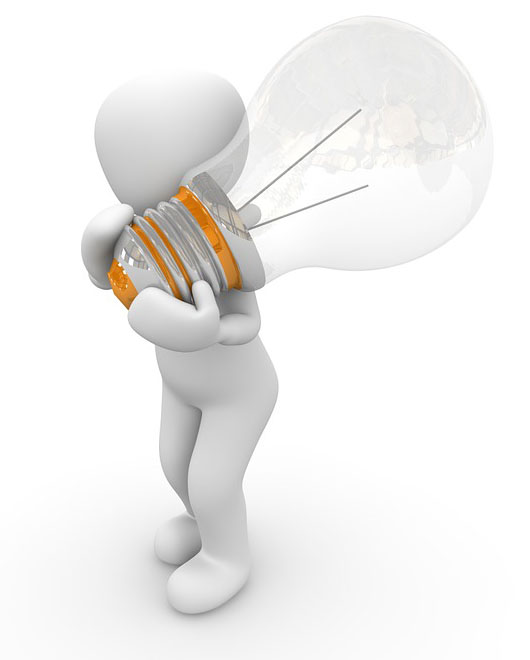 Google used to charge $395 a YEAR for the Pro version of Google Earth, which allows you to make videos, but a little while back Google decided to give Google Earth Pro away for free with no restrictions.
Unlike all the other video makers, tons of content is included within Google Earth Pro. You don't need to spend more money on expensive templates or money-sucking stock video and images.
The marketing gurus don't tell you about Google Earth Pro because they can't make any affiliate commissions from it. There's no upsells or expensive reoccurring template memberships for them to profit from.
Yet the profit potential is "out of this world" for those willing to learn the techniques and strategies posted below.
You can make a video of how to get to a vacuum cleaner store in Wooster, Ohio or a store that sells socks in Estes Park, Colorado or a wedding chapel in Las Vegas, or the 5 best places to find Bigfoot.
This means you can greatly expand your "local" market to sell your video services to businesses that are just about anywhere on the planet. And you can make interesting and entertaining YouTube videos about practically every place and location there is.
Below, you will discover how to use Google Earth Pro to make videos. You'll also find tons of suggestions, strategies and brainstorming ideas for you to use to create videos about virtually unlimited topics.
Get it now…You'll be amazed at all the ways you can profit from Google Earth Pro!
Download Google Earth Pro
The first step is to download Google Earth Pro here.
You'll need to register the software by entering this key:
GEPFREE
You will also need to enter a username and email address when you register your version of Google Earth Pro.
Download the Google Earth Browser Plugin:
https://www.google.com/earth/explore/products/plugin.html
Your Rights When Using Media From Google Earth:
http://www.google.com/permissions/geoguidelines.html
I don't like interpreting things like terms and legal conditions. But be sure to read the entire page. It starts off as if Google is strict about using the imagery in Google Earth. However, further down the page they list acceptable ways to use your videos for profit.
The main thing is to be sure you keep the attributions that are automatically inserted into the images and graphics.
Getting Started With Google Earth Pro
Navigation
The toughest part of using GEP is probably mastering navigation to the locations you want to use and getting the "camera angle" just right.
Here's an official video from the Google Earth folks showing you how to navigate using the GEP graphic controls:
Also, you can click and drag on an area of the map to move around and change the camera angle.
Really, the only way to master the navigation controls is to practice.
Also see the Google Earth docs for more info about navigating.
Navigating in Street View
Google's Street View is a very powerful feature to use for money-making videos. Do note that Street View isn't available for all locations across the globe.
Also, it's very difficult if not impossible to create a good looking video using Street View.
The good news is, for the places that do have Street View, it's like being a photographer that's right on the spot and you can take "photographs" of places from a variety of angles and import them into any basic video editor to make videos..
Here's another "official" training video showing you how to navigate in Street View. Note that they are using an older version of GEP. When in Street View now you will see yellow lines on the streets showing you where you can go. Use the arrow keys on your keyboard to guide you along the yellow lines.

Google Earth Keyboard Shortcuts
Using Google Earth's navigation tools can take some practice and can be a little hard to use at times. I often find it easier to use my keyboard to get the best results. Here's some of the most common commands using your keyboard and mouse. Note that some functions can be performed two different ways.
| | | |
| --- | --- | --- |
| Function | Windows and Linux | Mac |
| Move Left | Left Arrow | Left Arrow |
| Move Right | Right Arrow | Right Arrow |
| Move up | Up Arrow | Up Arrow |
| Move Down | Down Arrow | Down Arrow |
| Rotate Clockwise | Shift + Left Arrow | Shift + Left Arrow |
| Rotate Counter-Clockwise | Shift + Right Arrow | Shift + Right Arrow |
| Show/hide Overview window | CTRL + M | + M |
| Tilt Up | Shift + Down Arrow | Shift + Down Arrow |
| Tilt Down | Shift + Up Arrow | Shift + Up Arrow |
| Look | CTRL + left mouse button + drag | + mouse button + drag |
| Zoom in | Page Up Arrow | Scroll wheel, + key |
| Zoom out | Page Down Arrow | Scroll wheel, – key |
| Zoom + automatic tilt | Right mouse button + drag up or down | CTRL + click + drag up or down |
| Stop current motion | Spacebar | Spacebar |
| Reset view to "north – up" | n | n |
| Reset tilt to "top-down" view | u | u |
| Reset tilt and compass view to default | r | r |
A Note About "Layers"
One of the first things you want to do is notice the "Layers" panel in the bottom left of GEP.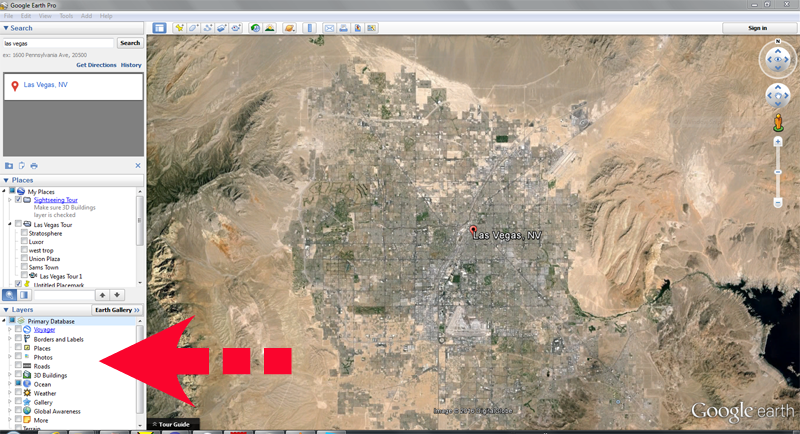 I suggest you un-check all the layers, as using these features will really slow down your computer processing speed.
You can experiment a bit with these features: 3D Buildings, Terrain, and Roads. 3D Buildings and Terrain take a lot of computing power and may give strange results when making videos using GEP. However, if you're using still JPG images give them a look. Just be aware that Layers features can cause some issues and un-checked them if they do.
For making videos that make money using GEP, I suggest three strategies:
1. Fly over tours
2. Still images
3. Fly to single place
Fly Over Tours – These videos are best used when you need a video tour of multiple large areas where the locations don't need to be shown close up. For example, if you were creating a video about "The Five Best Places to Find Bigfoot" you probably don't want to use a specific location.
Still Images – Often, it's easiest and best to export still images from GEP to use in a separate video editor to create your videos. You can use GEP to take "pictures" of the same place or thing from different angles to give your videos even more variety.
Fly to a Single Place – Use these short videos if you want to showcase a specific place like a fountain, bridge or a place of business, you can start with an over-head view of a larger area then "fly in" for a closer view of your featured place or thing. You can create a number of these types of videos, then combine them into a longer video using a separate video editing program.
There are two ways to make to create a video using Google Earth: "Live" and from a "Tour".
Making a "Live" Video
When making a "Live" video, GE records movements "live" as you use your mouse and keyboard to move from place to place. It's a lot like using Camtasia or other screen capture software and will record a video of what is happening on your computer.
The drawback is, making a "Live" video will take much more computer processing power and will often result in low quality videos. Also, if you make any errors or mistakes when moving around, those mistakes will be part of your video.
In most cases, it's recommended that you first create a "tour" then use Google Earth to make a video using the tour. But there are times when you'll want to make a "live" video.
To make a Live video:
Go to => Tools => Movie Maker => Create Movie
A popup window will appear: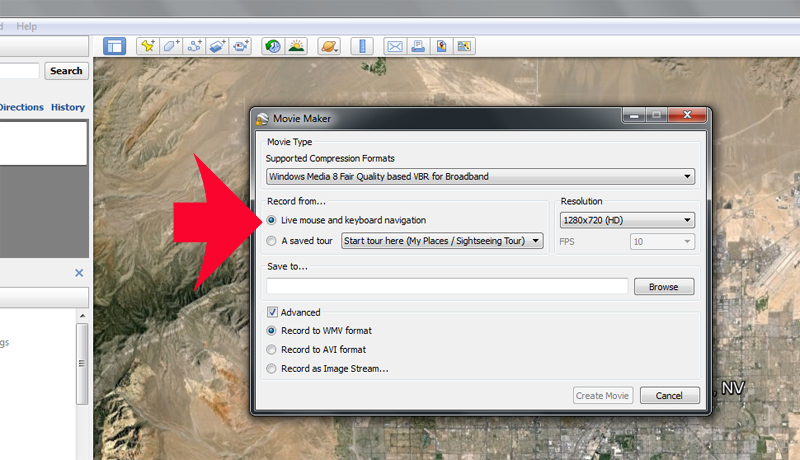 Select the "Live mouse and keyboard navigation" button. See the red arrow.
For the other settings, on WINDOWS, I suggest using: (Sorry, I don't know about Mac settings.)
Supported Compression: Windows Media 8 Fair Quality – If you have a good PC, try a higher setting.
Resolution: 1280×720. This will give you a HD video, an advantage in YouTube rankings. However, if your PC struggles with this setting, you may have to use a lower resolution.
Click the Advanced checkbox and select Record to WMV format.
Note: Often you will be creating videos from a saved tour. When doing so, just click the "a saved tour" radio button and select the saved tour from the drop-down menu. Your other settings will be the same.
Video Export Settings
The link below is to a Youtube video from Google and it's fairly long and you probably should watch the entire video. However, I've set the link to start the video the point where it talks about GEP video export settings. (22:24)
YouTube: Video Export Settings

Recording Videos Using Google Earth Tours
Generally speaking, you'll want to make videos using GEP "tours". It's a three-step process:
Create a tour

Save the tour

Make a movie from the tour
Videos: How to make movies using GEP tours:
Google Earth Tour and Movie Maker –  Probably the best over-view of using GEP to make movies I found on Youtube.
How to make a Google Earth tour – A quick, to the point video that focuses on creating tours.
Tip: When creating a video tour about a particular place like a building or statue, navigate to street view and adjust the camera angle how you want it. THEN set your place marker. This will have GEP use this point of view as it makes a tour stop.
How To Export Still JPG Images
Often it's just easier and quicker to export still images and use them in another video editor.
Here's Google's tutorial for how to Save images from around the world.
Note: After you click the "Image" button on the tool bar, you will see a button "Map Options". Click it and a drop-down menu will appear where you can select or deselect the options you want to include in the image. I generally deselect all options.
When choosing the resolution when exporting images, I try to choose the option closest to the video resolution I'll be using when exporting the video I'll use the image in, which is usually 1280×720 (or the closest option).
More Google Earth Training Videos
Above, I showed you the techniques I believe are the ones that are the most vital for making money using GEP. However, sometimes another point of view may help you learn better. Or you may want to take your GEP skills beyond the basics. So, I've included some GEP videos from other folks.
I have spent literally over 60 hours watching videos about GEP on Youtube. Below are links to the videos that I think give you the most value for your time.
Using Google Earth Pro With Other Video Editors
Google Earth Pro is a very powerful program. However, it's really a great "content creator" but it's not very good as a video editor.  Plus, you can't use it to cut out parts or lengthen other parts.
Other reasons to have a good video editor is that the settings for timings in Google Earth are for the entire video, such as the time it takes to get from one place to another and how long it "stops" at a place are the same for every place on the video tour.
Often it's best to record the tours individually in segments with different settings, then piece them together in a separate video editor. Another benefit is many video editors have a "delay" feature that will let you stay on a frame in the video longer as well as being able to "cut" part of the video out and play faster, each will let you modify the timing of the video.
While you can record a voice over while you navigate using GEP, you can't really use Google Earth to add background music sound track or sound effects. Using a separate video program is also better for adding text.
Research some quick facts and info about the locations in your tour videos and record a voice-over as if you are a "virtual tour guide". If you don't want to do voice-overs, be sure to add some interesting text using an external video editor. Either way, it will make your videos a lot better.
Adding a few sound effects can also spice up your GEP videos.
A good easy, but potent strategy is to use GEP as your own "camera" and export static JPG images of the places you want, then import the still pictures into another video editor.
Discover the very best FREE video editors
to use with Google Earth Pro…
Plus a vast collection of even more FREE video making media resources:
To get my Blue Ribbon Resources 2016, just share this post and you'll instantly get access to the download link. You're getting my picks for the best FREE stock image and video resources, plus free background music sites, free sound effects, free graphic text sites and much much more.
There's literally THOUSANDS AND THOUSANDS of dollars worth of free video stuff.
It literally took me years to assemble this collection of video resources. It's yours in a mere second for helping spread the word about this report.

Be a Video Making Genius With These Brainstorming Ideas and Strategies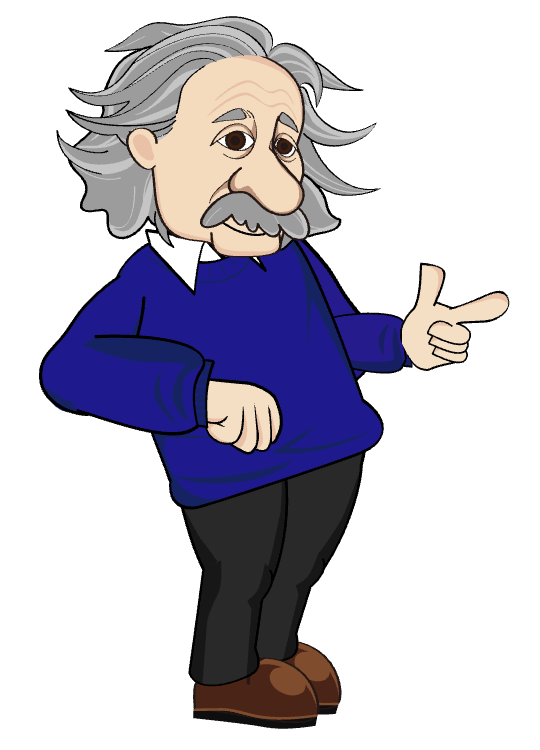 Unless you're selling videos to high-paying clients, making money from videos on Youtube is really a numbers game. To be honest, most of your Youtube videos probably won't make a lot of money. You're likely to make 90% of your money from 10% of your videos.
The key to making money is being able to make a lot of good, interesting videos as quickly and easily as possible. And Google Earth Pro is the best way to make good, interesting videos as quickly and easily as possible.
Making videos using Google Earth and the Planet Video system is about being able to research using Google.
Usually, you can just type in the name of a place or address directly into Google Earth but you'll need to know the name or address of the place before you can discover it's location or address.
If you're from India but want to make a video about "Most Haunted Places in Southern California", you'll just need to know the names and locations of some haunted places. This is where Google comes in. And this is what's so great about using Google Earth to make videos, you just need to be a good researcher.
When brainstorming ideas to use with GEP, there will be three general categories of viewers:
Visitors/tourists to an area
Locals/residents of a location
General Interest – For example, a video tour for "most haunted places in Southern California" or "places with the most big foot sightings" will likely appeal to people from a wide variety of locations with no plans of actually visiting that area. There are people interested in ghosts in all four corners of the planet.
These distinctions are important as they show us how to make money from each. Tourists can be monetized with any number of travel and tourism affiliate programs.
Local video tours can use topics like "3 best hardware stores" (or any other retail business) and give out "awards". "Best Hardware Stores" is a topic that locals may be interested in, but tourists won't be. You can use these videos to do local marketing and advertise local businesses. For example, a home remodeling company would be a great match for "Best hardware stores".
General interest videos will appeal to the widest audience with fewer ways to monetize them. Generally, Adsense/Youtube monetization is best for these, but it can depend on the individual topic of each and if there are any affiliate programs for your target audience. I'm sure there's affiliate products that will appeal to those interested in ghosts
Generally, a good formula to use for finding topic for creating videos is:
Adjective + Topic + Location
Adjectives

Longest
Shortest
Smallest
Tallest
Oldest
Weirdest/Strangest/Oddest
Most Beautiful/Gorgeous
Most Popular
Best
Famous
Infamous
Dangerous
Expensive
Secret
Worst
Funniest
Spectacular
Incredible
Luxury
Quality
Interesting

Locations:

In The World
By Continent
By Country
By Region
By State
By Area – Delmarva (Delaware, Maryland, Virginia), Front Range (A number of cities in Colorado), etc.
By County
By City/Metropolitan
Neighborhood
By direction – such as East Los Angeles, Upstate New York, Northern California, The Midwest, East of the Mississippi, West Coast, Eastern Europe…

Now putting the elements together, we could have something like:
Most beautiful temples in Japan
Now just search Google for "List of most beautiful temples in Japan", enter the locations in Google Earth and make a video.
Largest Cites, Countries, States, Travel Destinations, Tourist Attractions
1000 Largest Cities in USA – Also, each city will have a link to it's state that will list the largest cities in that state.
Maybe even more powerful is to use popular travel destinations and popular tourist attractions:
Most Popular Travel Destinations in the World
Local Keyword Finder Tool – Enter a city or zip and get a list of the surrounding cities. It has many uses and is especially powerful for prospecting for clients in need of local marketing services.
Some Quick Examples:
Most Popular Travel Destinations in the USA
Most Popular Tourist Attractions in [city]
Most Popular Tourist Attractions in [state]
Most Popular Tourist Attractions in [country]
Most Popular Tourist Attractions in USA
Most Popular Tourist Attractions in [continent]
You need to be creative when breaking topics into niches. For example, a topic like "Fastest Roller Coasters in Wyoming" may not work, as their aren't a lot of roller coasters in Wyoming. You many need to use something like "Fastest Roller Coasters West of the Mississippi".
Some Travel Related Keyword Suggestions
African Safaris
Antarctic Adventures
Bargain Travel (cheap, discount, budget, deals, etc.)
Beach Vacations
Bed and Breakfast
Boat Charters and Tours
Business Travel
Cruises
Destination Weddings
Ecotourism
Family Travel
Group Travel
Air Travel
Food and Travel
Gay Travel
Golf Vacations
Holiday Travel
Honeymoons and Romance
International Travel
Last Minute Travel Bargains to
Outdoor/Adventure Travel
Private Charters/Private Rentals
Road Trips
Senior Travel
Single Travel
Specialty Tours and Travel
Sporting Events – World Cup, Olympics (summer/winter), Rugby World Cup, Wimbledon, The Masters (golf), Super Bowl, etc.
Solo Travel
Spa Vacations
Timeshares
Train Travel
Travel Gadgets and Gear
Traveling With Disabilities
Traveling with Pets  (Pet Friendly Hotels)
Vacation Rentals
Winter Sports (Skiing, dog sledding, snowboarding, snowmobiling, etc.)
Note: It's estimated that about 46% of all travel related search queries contain the words "cheap" or "discount".

Magic Money Multiplying Travel Keywords are included in your FREE report!
These keywords will multiply your profit potential. Be sure to use them as often as possible to maximize your money.
To get immediate access to my special FREE Money Making Tips and Tricks
Using Google Earth Pro just enter your email address below:
OPT IN BOX HERE
Immediate Delivery to Your Email Box
You'll be amazed at all the ways you can profit from Google Earth Pro
Without this special report, you will never truly see
how potent Google Earth Pro is for video marketing.
Misc. Ideas
Below are some misc. ideas to get your creative juices flowing. Use them as starting points.
A big key for thinking of topics is thinking of different ways that you can "nichify" a topic as much as possible. The key to Youtube marketing is a combination of quality and quality. The more GOOD videos you have, the more likely it is you'll make money.
Look at the many different ways we can nichify the topic "roller coasters":
Roller Coasters – Biggest, Tallest, Most Popular, Fastest, Scariest, Oldest, Wood – Add in "Locations" and you have even more options.
With a little thought, an entire Youtube channel could be dedicated to roller coasters. You just need to think of as many categories that will work.
A simple but effective way is to use as many locations as possible for each topic. Another way to nichify is to add adjectives along with a location to a topic:
Best restaurants in Chicago
best gourmet restaurants in Chicago
best cheap restaurants in Chicago
When creating channels on Youtube, you can use different ways of categorizing content:
By location
By topic
For example, you could have a channel dedicated to the most interesting things to visit in Mexico and on this channel include a video about the pyramids in Mexico. You could also have another channel about pyramids around the world. With just a little modification, you could use a video of a Mexican pyramid on both channels, stretching your video making efforts and expanding your reach.
Random Ideas for Videos
Most Haunted/Spookiest in
Pet Cemeteries in ______
Castles and Palaces in ______
Mysterious/Historical – Stonehenge, etc
Pyramids in ______
Ghost Towns in ______
Ancient Ruins in ______
List of Weird (Strange) Places in ______
Best Places To Go Squatching in ______
Best Places To Watch Wildlife In ______
Best Places To People Watch in ______
Best Places to Star Gaze in ______
Most Famous or Beautiful Fountains in ______
Birthplaces of Famous People (Presidents, Actors, Artists, Authors, etc.) in ______
Most Beautiful Bridges (Longest, Tallest, etc) in ______
Most Dangerous Roads in ______
Most Spectacular Architecture in ______
Most Spectacular Religious Buildings (Churches, Cathedrals, Temples, etc.) in ______
Oldest Buildings in in ______
Tallest Buildings in Asia in ______
Beaches (Surfing, People Watching, Party, Tropical, Best Sand, For Camping, For Dogs, To Get a Tan, Camping, etc.) in ______
Famous locations used in TV, books and movies.
Famous locations used in TV, books and movies.
Special Events like Mardi Gras or The Masters (golf)
Best Golf Courses in ______ – Public/Private
Horseback Riding in ______
Gem Hunting/Gold Panning in ______
Cave Tours or Exploration in ______
Honeymoon/Honeymoon Resorts in ______
Cruise Ship Ports of Call – Research cruises. Make videos showing each stop. Monetize with a cruise affiliate program for that trip.
Private Island Rentals – Optimize for countries/states/locations all over the world.
Musician/Band Tour Locations – Monetize with concert tickets on the eBay Partner Network or tickets affiliate programs, posters, iTunes etc.
Local Specialties – Pot Shops in Denver and Colorado, Wedding Chapels in Las Vegas, Cheese Steaks in Philadelphia, Coffee Shops in Seattle, Crab Cakes in Maryland, Salmon in Seattle, Gumbo in New Orleans, Lobster in Maine.
Get Travel/Tourism Ideas for Videos
Trending Travel from ListChallenges
ListVerse.com
TheTopTens
TheTopTens Lists
National Geographic Adventure Trip Ideas
SuperPages City Guides
Discovery Travel Search
Travel Channel
Trip Advisor Forum
Types of tours
101USA.com Best of  – Has some good lists of things like "Best Small Towns in Colorado".
RootsRated.com – Has adventure ratings for a number of towns and areas.
The Crazy Tourist / Example: The Crazy Tourist 15 Most Beautiful Spots in Colorado
Only In Your State
Hillman's Top 100 Wonders of the World
Some Suggested Google Searches for More Tourism Ideas
Group tours for (seniors, 30somethings, singles, Christians, etc.)
How to Find "The Best" For Places You Know Nothing About
Yelp.com  – Check Yelp for the highest rated businesses in a variety of categories and put the addresses into Google Earth.
Trip Advisor has a number of city guides with ratings. Read the comments and ratings to give you ideas. Here's two examples:
Michelin Star Ratings – The famous tire company has rated hotels, restaurants and tourist sites for over a century.
Weekly/Alternative Newspapers
Many cities have weekly and/or alternative newspapers that have "best of" lists for all types of things ranging from "Best BBQ Ribs" to "Best Whiskey Bar" and are excellent resources for research.
Just do a Google search for something like:
"Best of [city]"  or "Best in [city]"
Here's two examples of alternative newspapers "Best Of":
Best of Las Vegas – I believe this is published by the Las Vegas Weekly alternative newspaper.
Activities
All terrain vehicle trails
Amusement/theme parks
Ancient ruins
Antique shops
Aquariums
Architectural buildings
Arenas/stadiums/fields
Art galleries
Art museums
Ballets
Bars/clubs
Battlefields
Bays
Beaches
Biking trails
Blues bars
Bowling alleys
Breweries
Bridges
Canyons
Casinos
Castles
Caverns/caves
Cemeteries
Children's museums
Churches/cathedrals/temples
Cigar bars
Civic centers
Coffeehouses
Comedy clubs
Concerts
Convention centers
Country western bars
Cross-country ski areas
Dams
Dance clubs/discos
Department stores
Deserts
Dinner theaters
Disney
Dog tracks
Downhill ski areas
Educational sites
Equestrian trails
Factory outlets
Factory tours
Farms
Ferries
Flea/street markets
Forests
Fountains
Game/entertainment centers
Gardens
Gay bars
Geological formations
Ghost towns
Golf courses
Government buildings
Group tours/boats
Health clubs
Hiking trails
Historic homes
Historic sites
Historic villages
Historic walking areas
History museums
Horse tracks
Horseback riding stables
Hot springs/geysers
Islands
Jazz bars
Jogging paths/tracks
Karaoke bars
Lakes
Landmarks/points of interest
Libraries
Lighthouses
Lookouts
Malls
Marinas
Maritime museums
Military bases/facilities
Military museums
Mines
Missions
Monuments
Motorcycle trails
Mountain biking trails
Mountains
Movie theaters
Museum complexes
Museums
Mysterious sites
National parks
Natural history museums
Nature centers
Nature reserves
Nature trails
Neighborhoods
Observation decks/towers
Observatories/planetariums
Off road vehicle trails (4wd)
Old jails
Onsen
Operas/Opera Houses
Parks
Performances
Piano bars
Playgrounds
Ponds
Public transportation systems
Race car tracks
Ranches
Reefs
Reservations
Resort communities
Rivers
Road biking trails
Scenic drives
Scenic railroads
Scenic/historic walking areas
Science museums
Ships
Shops
Ski areas
Snow Machine Trails
Snowboard ski areas
Spas
Specialty museums
Specialty shops
Sports camps/clinics
Sports complexes
Sports museums
State parks
Statues
Symphonies
Theater districts
Theaters
Tourist/visitor centers
Tours
Town centers/squares/plazas
Trails
Trams
Transportation museums
Urban parks
Valleys
Volcanoes
Water parks
Waterfalls
Waterways
Wax museums
Wharves/piers
Wildlife parks
Wineries
Zoos
More Activities
Adrenaline and Extreme Tours
Amusement Parks
Ancient Ruins
Aquariums
Archery
Architectural Buildings
Arenas and Stadiums
Art and Music Tours
Badminton
Balloon Rides
Baseball Clubs and Parks
Baseball Diamonds
Baseball Equipment and Supplies
Baseball Instruction
Basketball Clubs and Instruction
Batting Ranges
Batting Ranges
Beaches
Beer Tastings and Tours
Bike Tours
Bikes
Biking Trails
Billiard Table Dealers
Billiard and Pool Halls
Billiard and Pool Halls
Billiards Equipment and Supplies Dealers
Bingo
Bingo
Bird Watching
Boarding Stables
Boat Dealers
Boat Rental
Boat Rentals
Boat Tours
Boat and Yacht Charters
Boat and Yacht Insurance
Boating
Bodies Of Water
Body Boarding
Bowling Alley
Bowling Alleys
Bowling Equipment and Supplies Dealers
Boxing Clubs and Instruction
Bridges
Bus Tours
Campgrounds
Camping and Backpacking
Camps
Canoe and Kayak Dealers
Casinos
Castles
Cemeteries
Chess Instruction
Churches and Cathedrals
City Parks
City Tours
Civic Centers
Climbing
Climbing Tours
Club and Pub Tours
Coffee and Tea Tours
Country Clubs
County Fairs
Cultural Tours
Dams
Disc Golf
Distillery Tours
Diving
Diving Equipment and Supplies
Dog Parks
Dog Sledding
Duck Tours
Educational Sites
Equestrian Trails
Factory Tours
Farms
Fashion Shows and Tours
Fishing (Salt Water, Deep Sea, Fresh Water, Fly Fishing)
Fishing Charters and Tours
Fishing Guides and Charters
Food Tours
Fountains
Gardens
Ghost and Vampire Tours
Go Karts
Golf/Golf Courses
Golf Driving and Practice Ranges
Golf Equipment and Supplies Retail
Government Buildings
Gun and Rifle Ranges
Guns
Gunsmiths
Gyms
Hang Gliding
Health Resorts
Helicopter Tours
Hiking
Hiking Trails
Historic Sites
Historic Walking Areas
Historical and Heritage Tours
Hobbies
Hop-on Hop-off Tours
Horse Breeders and Dealers
Horse Racing
Horse-drawn Carriage Tours
Horseback Riding
Horseback Riding
Hot Air Balloon Rides and Rental
Hot Air Balloons
Hot Springs
Ice Skating Rinks and Instruction
Karate, Judo, and Kung Fu Instruction
Kayaking Ocean
Kayaking Whitewater
Kayaking and Canoeing
Kite Boarding
Lakes
Landmarks
Laser Tag
Literary
Lottery Tickets
Martial Arts
Martial Arts Instruction
Metal Detectors
Military Bases
Mini Golf
Miniature Golf Courses
Monuments and Statues
Mountain Biking
Movie and TV Tours
National Forests
National Parks
Nature and Wildlife Areas
Nature and Wildlife Tours
Neighborhoods
Night Tours
Observation Decks and Towers
Outdoor Sports and Recreation
Paddle Boarding
Paintball
Paintball Equipment and Supplies
Parks
Parks
Parks and Playgrounds
Personal Watercraft Sales and Rental
Photography Tours
Piers and Boardwalks
Pilates
Playground Equipment Dealers
Playgrounds
Private Golf Courses
Private Tours
Public Golf Courses
Public and Private Swimming Pools
RV and Camper Campgrounds
RV and Camper Rental
Rafting and Kayaking
Rail Tours
Recreation Centers
Recreation Centers
Religious Sites
Resorts
Rock Climbing
Rodeos
Roller Skating Rinks and Instruction
Running Tours
RVs
Sailboat Charter and Rental
Sailing
Scenic Walking Areas
Scooter and Moped Tours
Scuba Diving
Scuba and Skin Diving
Scuba and Snorkeling
Segway Tours
Ships
Shopping Tours
Sightseeing Tours
Skate Parks
Skate Shops
Skate Shops
Skating Rinks
Ski Resorts
Ski Resorts
Skydiving
Skydiving
Snorkeling
Snorkeling
Snowboarding
Snowmobile
Snowmobile Dealers
Snowmobile Rentals and Tours
Spas
Speed Boats Tours
Sporting Goods
Sports Camps
Sports and Recreation Facilities
Squash
State Fair
State Parks
Summer Camps
Surfing
Swimming Pools
Tai Chi
Tennis Clubs
Tennis Courts
Tennis Equipment and Supplies Retail
Tent Sales and Rental
Theme Parks
Trampoline Parks
Tubing
Universities and Schools
Vespa
Walking Tours
Water Parks
Water Skiing and Jet Skiing
Water Sports
Water Sports
Whale Watching
Whitewater Rafting
Wildlife Sanctuaries and Preserves
Wind Surfing
Wine Tours and Tastings
Yachting
Zoos
Restaurants/Dining
Best Breakfast
Best Lunch
Best Dinner
Best For Kids
Best Cheap/Deal
Best Atmosphere
Best Romantic
Best Late Night
Highest Rated
Afghan
African
American
Arabian
Argentine
Armenian
Asian Fusion
Australian
Austrian
Bagel Shops
Bakeries
Bangladeshi
Barbecue
Basque
BBQ
Belgian
Brasseries
Brazilian
Breakfast and Brunch
Breweries
British
Buffets
Burgers
Burmese
Cafes
Cafeteria
Cajun and Creole
Coffee
Cake and Pie Shops
Cambodian
Cantonese
Caribbean
Catalan
Cheese steaks
Chicken Wings
Chicken (Fried)
Chinese
Colombian
Comfort Food
Creperies
Cuban
Czech
Delis
Dim Sum
Diners
Distilleries
Dominican
Donuts
Egyptian
Ethiopian
Fast Food
Filipino
Fish and Chips
Fondue
Food Court
Food Stands
French
Gastropubs
German
Gluten-Free
Greek
Haitian
Halal
Hawaiian
Himalayan and Nepalese
Hot Dogs
Hot Pot
Hungarian
Ice Cream and Frozen Yogurt
Iberian
Indian
Indonesian
Irish
Italian
Japanese
Juice Bars and Smoothies
Korean
Kosher
Laotian
Latin American
Lebanese
Live and Raw Food
Malaysian
Mediterranean
Mexican
Middle Eastern
Modern European
Mongolian
Pakistani
Persian and Iranian
Peruvian
Pizza
Polish
Portuguese
Puerto Rican
Russian
Salad
Salvadoran
Sandwiches
Scandinavian
Scottish
Seafood
Senegalese
Shanghai
Singaporean
Slovakian
Soul Food
Soup
South African
Southern
Spanish
Specialty and Gourmet
Steakhouses
Street Food
Sushi Bars
Szechuan
Taiwanese
Tex-Mex
Thai
Trinidadian
Turkish
Ukrainian
Vegan
Vegetarian
Vegetarian
Venezuelan
Vietnamese
Wineries
Bars/Nightlife
Champagne Bars
Cocktail Bars
Comedy Clubs
Country/Western
Dance Clubs
Dive Bars
Gay Bars
Get Drunk Cheap
Hookah Bars
Jazz and Blues
Karaoke
Live Music
Lounges
Micro Breweries
Music Venues
Night Clubs
Piano Bars
Pick-up Bars
Pool Halls
Pubs
Sports Bars
Strip Joints
Wine Bars
Shopping (Local Audience)
Adult
Antiques
Art Galleries
Arts and Crafts
Auction Houses
Bridal
Comic Books
Fireworks
Flea Markets
Florists
Flowers and Gifts
Formal Wear
Gift Shops
Golf Equipment
Guns and Ammo
Hardware Stores
Hats
Hobby Shops
Lingerie
Men's Clothing
Motorcycle Gear
Music and DVDs
Newspapers and Magazines
Outdoor Gear
Outlet Stores
Pawn Shops
Shopping Centers
Specialty and Gourmet Foods
Sporting Goods
Sports Wear
Surf Shops
Swimwear
Thrift Stores
Tobacco Shops
Toy Stores
Used
Vintage and Consignment
Videos and Video Game Rental
Vinyl Records
Wholesale Stores
Wine and Distilled Beverages Retail
Women's Clothing
Women's Clothing Plus Sizes
Women's Shoes
Shopping Centers and Malls
Museums
Most Popular
History, Natural History, Art, Military, Children's, Science, Observatory/Planetariums, Weird MuseumsMuseums by Location
Museums listed by country
Museums in USA listed by state
Specialty Museums
Advertising Museums
Aerospace Museums
Agriculture Museums
Amusement Museums
Anthropology Museums
Archaeological Museums
Architecture Museums
Art Museums
Astronomy Museums
Automobile Museums
Bank Museums
Beer Museums
Bible-themed Museums
Biographical Museums
Bus Museums
Canal Museums
Carriage Museums
Ceramics Museums
Children's Museums
Cinema Museums
Circus Museums
City Museums
Civilian Conservation Corps Museums
Civilization Museums
Computer Museums
Costume Museums
Cycling Museums
Museums
Decorative Arts Museums
Dental Museums
Design Museums
Dinosaur Museums
Eco museums
Museums
Education Museums
Equestrian Museums
Ethnic Museums
Ethnographic Museums
Farm Museums
Fashion Museums
Firefighting Museums
Folk Museums
Food Museums
Forestry Museums
Fossil Museums
Gas Museums
Geology Museums
Glass Museums
Historic House Museums
History Museums
Horological Museums
Hospital Museums
Human Rights Museums
Industry Museums
Museums
Jewelry Museums
Jewish Museums
Language Museums
Law Enforcement Museums
Law Museums
LGBT Museums
Lighthouse Museums
Literary Museums
Living Museums
Local Museums
Magic Museums
Masonic Museums
Media Museums
Medical Museums
Military And War Museums
Mill Museums
Mineralogy Museums
Modern Art Museums
Motorcycle Museums
Music Museums
Museums
National Museums
Natural Disaster Museums
Natural History Museums
Numismatic Museums
Nursing Museums
Open-air Museums
Opera Museums
Performing Arts Museums
Petroleum Museums
Pharmacy Museums
Photography Museums
Poetry Museums
Postal Museums
Prison Museums
Puppet Museums
Quilt Museums
Railway Museums
Religious Museums
Research Museums
Rural History Museums
School Museums
Science Museums
Scouting Museums
Sex Museums
Shell Museums
Society Museums
Sports Museums
Steam Museums
Tea Museums
Technology Museums
Telecommunications Museums
Textile Museums
Theater Museums
Tourism Museums
Toy Museums
Transport Museums
University Museums
Urban Planning Museums
Viking Age Museums
Virtual Museums
Wax Museums
Weird Museums
Whaling Museums
Wine Museums
Women's Museums
Casinos/Gambling/Betting
Poker, Bingo, Horseracing, Black Jack, Video Poker, Poker Rooms, Comps, Slots, etc.
Festivals

"Top Ten" Suggestions
Below are a list of suggestions for making general interest videos for YouTube using Google Earth.
Many people love lists of things and using countdowns is a very effective way to keep viewers' attention and get them to watch your entire video, a very important aspect to ranking videos on YouTube.
Note that I used "Ten" but you can use any number you want.
Here's some sites that feature Top Lists. Use them for inspiration for creating videos:
http://www.listchallenges.com/lists/travel/trending
http://listverse.com
http://www.thetoptens.com/lists/
http://www.toptenz.net
Top Ten Ancient Civilizations
Top Ten Ancient Civilizations With Advanced Technology
Top Ten Coldest Colleges
Top Ten Coldest Countries in the World
Top Ten Coolest Small Towns in America
Top Ten Countries With the Fattest People
Top Ten Countries With the Shortest People
Top Ten Countries With the Tallest People
Top Ten Dirtiest Air Cities in the World
Top Ten Dirtiest Beaches in California
Top Ten Dirtiest Cities in California
Top Ten Dirtiest Countries in the World
Top Ten Expensive Cities
Top Ten Expensive Cities in Europe
Top Ten Expensive Cities in the US
Top Ten Expensive Cities in the World
Top Ten Expensive Houses in India
Top Ten Expensive Houses in South Africa
Top Ten Expensive Countries
Top Ten Expensive States in USA
Top Ten Famous Artists Of All Time
Top Ten Famous Buildings in Japan
Top Ten Famous Horror Movie Locations
Top Ten Famous Paintings Leonardo Da Vinci
Top Ten Famous Volcano
Top Ten Fastest Roller Coasters in the World
Top Ten Greatest Serial Killers Of All Time
Top Ten Infamous Murders in History
Top Ten Largest Cities in Asia
Top Ten Largest Cities in Mexico
Top Ten Largest Cities in Mississippi
Top Ten Largest Cities in North America
Top Ten Largest Cities in the USA
Top Ten Largest Countries in the World
Top Ten Largest Rivers in the World
Top Ten Largest States
Top Ten Least Expensive Colleges
Top Ten Least Expensive States To Live in
Top Ten Longest Bridge in the World
Top Ten Longest Bridges in Africa
Top Ten Longest Bridges in India
Top Ten Longest Bridges in the World
Top Ten Longest Bridges in World
Top Ten Longest Bridges North America
Top Ten Longest Rivers in India
Top Ten Most Beautiful Beaches in America
Top Ten Most Beautiful Beaches in Greece
Top Ten Most Beautiful Campuses in Canada
Top Ten Most Beautiful Campuses in USA
Top Ten Most Beautiful Cities in Africa
Top Ten Most Beautiful Cities in Asia
Top Ten Most Beautiful Cities in Scotland
Top Ten Most Beautiful Cities in the World
Top Ten Most Beautiful Cities in US
Top Ten Most Beautiful Countries in Asia
Top Ten Most Beautiful Countries in the World
Top Ten Most Beautiful European Countries
Top Ten Most Beautiful Places in Europe
Top Ten Most Beautiful Places in France
Top Ten Most Beautiful Places in the Uk
Top Ten Most Beautiful Places in the World
Top Ten Most Beautiful Places On Earth
Top Ten Most Beautiful Places To Live
Top Ten Most Beautiful State Capitol Buildings
Top Ten Most Beautiful States in the World
Top Ten Most Beautiful Women in the World
Top Ten Most Deadly Secret Services in the World
Top Ten Most Exotic Beaches in the World
Top Ten Most Expensive Buildings
Top Ten Most Expensive Colleges
Top Ten Most Expensive Hotels
Top Ten Most Expensive Houses
Top Ten Most Expensive States
Top Ten Most Famous Homes
Top Ten Most Famous Volcanoes
Top Ten Most Infamous Prisons
Top Ten Most Polluted Beaches in the World
Top Ten Most Polluted Cities in China
Top Ten Most Polluted Cities in China That Begin With X
Top Ten Most Polluted Cities in Europe
Top Ten Most Polluted Cities in Michigan
Top Ten Most Polluted Cities in the U.S.
Top Ten Most Polluted Countries
Top Ten Most Polluted Places in the World
Top Ten Most Polluted Rivers
Top Ten Most Polluted States in India
Top Ten Most Visited Beaches in the World
Top Ten Movie Locations
Top Ten National Geographic Most Beautiful Beaches
Top Ten Oddest Mascots For Colleges
Top Ten Oddest Places
Top Ten Oddest Things To See in Zion
Top Ten Oldest Cities
Top Ten Oldest Cities in Minnesota
Top Ten Oldest Cities in North America
Top Ten Oldest Cities in the World
Top Ten Oldest Cities in US
Top Ten Oldest Civilizations
Top Ten Oldest Colleges in the United States
Top Ten Oldest Countries
Top Ten Oldest Languages Still Spoken
Top Ten Oldest Nfl Teams
Top Ten Oldest Trees
Top Ten Places in the Bible
Top Ten Places To Search For Buried Treasure
Top Ten Places To See A Rock Concert
Top Ten Richest Cities
Top Ten Richest Countries
Top Ten Richest States
Top Ten Scariest Haunted Houses in the World
Top Ten Secret Agencies in the World
Top Ten Secret Agencies Of World
Top Ten Secret Bases
Top Ten Secret Beaches
Top Ten Secret Beaches in California
Top Ten Secret Beaches Maui
Top Ten Smallest Colleges
Top Ten Smallest Countries
Top Ten Smallest Countries By Area
Top Ten Smallest Countries By Population
Top Ten Smallest Countries in the World
Top Ten Smallest Countries in the World By Area
Top Ten Smallest Countries in World
Top Ten Smallest Mountains in the World
Top Ten Smallest Nfl Stadiums
Top Ten Smallest States By Area
Top Ten Smallest States By Population
Top Ten Smallest Towns in Iowa
Top Ten Smallest Towns in Oregon
Top Ten Smallest Towns in US
Top Ten Strange Places
Top Ten Strangest Animals
Top Ten Strangest Deaths in History
Top Ten Strangest Holes On Earth Or Moon
Top Ten Strangest Places in the World
Top Ten Strangest Places On Earth
Top Ten Strangest Things in the World
Top Ten Strongest Earthquakes
Top Ten Tallest Buildings 2016
Top Ten Tallest Buildings in Europe
Top Ten Tallest Buildings in Houston
Top Ten Tallest Buildings in New York
Top Ten Tallest Buildings in Seattle
Top Ten Tallest Buildings in the US
Top Ten Tallest Buildings in the US
Top Ten Tallest Mountains in South America
Top Ten Tallest Mountains in the United States
Top Ten Tallest Mountains in the US
Top Ten Tallest Mountains in the World
Top Ten Tallest Mountains On Earth
Top Ten Tallest Roller Coasters in the World
Top Ten Tallest Towers
Top Ten Tallest Towers in the World
Top Ten Tallest Water Slides
Top Ten Tallest Water Slides in the World
Top Ten Weirdest City Names
Top Ten Weirdest Mascots Colleges
Top Ten Weirdest Names Of Places
Top Ten Weirdest Places On Earth
Top Ten Weirdest Things On Google Maps
Top Ten Worst Cities For Crime
Top Ten Worst Cities in America Crime
Top Ten Worst Cities in Ohio
Top Ten Worst Cities To Drive In
The truth is, without this special money making report, you will never truly see how
potent and profitable Google Earth Pro really is for video marketing.